Outpatients
Our Outpatients Department is one of our busiest departments.
An Outpatients appointment is a consultation with a healthcare practitioner. This could be a Doctor, Nurse or Allied Health Professional.
Due to our response to the COVID-19 pandemic waiting times are longer than we would like, which we are working really hard to reduce.
Where clinically appropriate, these appointments may be carried out by telephone or video. You will receive a letter from the hospital confirming your appointment with us, what type of appointment this is and what steps you need to take prior to this appointment.
Due to COVID-19 the hospital currently has visiting restrictions in place, these can be accessed by clicking here.
Patient-initiated follow-up (PIFU) service
As part of our commitment to improve our Outpatients Department,  we have developed a patient-initiated follow-up (PIFU) service. PIFU has been specifically designed for patients with long-term conditions or having had treatment. This allows patients to contact clinical teams if they feel they need to, rather than having a prearranged or regularly scheduled appointment. This means you avoid unnecessary appointments, saving you time and stress. Find out more about PIFU by clicking the below box.
Bedford Hospital
Due to COVID-19 the hospital currently has visiting restrictions in place, these can be accessed by clicking here.
General information:
You may have your outpatients appointment at a clinic either within our Main Outpatients Department (near A&E and opposite the Cauldwell Centre) or within our new outpatients space on the first and second floor of the Cauldwell Centre.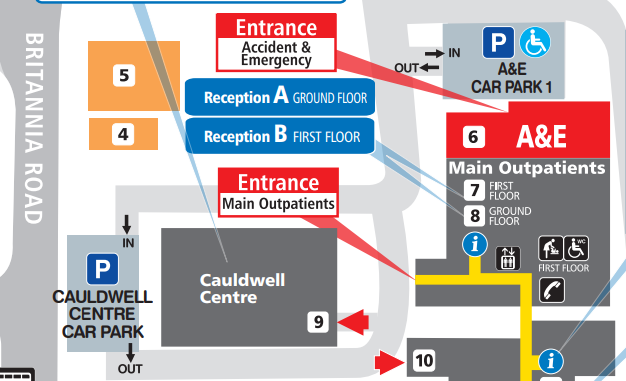 Department areas are extremely busy. We try our best to ensure all our clinics run as close to your appointment time as possible with every patient treated with respect & dignity as an individual during their consultation. However, consultation times may vary depending on individual patient needs.
Our priority is that all consultations are effective and informative. We endeavour to ensure you are kept up to date with any possible delays that may occur.
We would recommend all our patients complete a national friends and family questionnaire on leaving our department to enable us to constantly monitor and improve our services.
Clinics
Diabetes
Respiratory
Urology
Cardiology
Dermatology
Neuro / Stroke / TIA
Colorectal
Plastics
Phlebotomy
Breast
ENT
Gastro
Oncology psychologist
Renal
General Surgery
Endoscopy
AAA
Rheumatology
Care of the Elderly
Vascular
Pathology
ENT (ear nose throat, plus an urgent referral service)
Oral maxilla facial & orthodontic services
The Outpatients Department are running face-to-face, telephone and video appointments. If patients would prefer to opt for a virtual appointment, please request this through the Booking Office Team.
Please note the Clinician will approve or deny this request depending on the symptoms the patient is experiencing and whether it is deemed necessary for the patient to be seen in person.
Luton and Dunstable University Hospital
Clinics
Bariatrics
Breast Screening
Cardiology
Diabetes
Endocrine
ENT
Gastroenterology
General Surgery
Gynaecology
Hepatology
Neurology
Oncology
Pain
Plastics
Renal
Respiratory
Rheumatology
Urology
Vascular