Audiology
Bedford Hospital
Earwax Removal Survey
Many people are experiencing difficulties finding services to undertake earwax removal. More and more patients are telling us that they are unable to access help via the NHS.
The Royal National Institute for the Deaf is interested in your experience to help build a national picture of the problem. The aim is to collect an evidence base to bring about policy change.
Please could you take a few moments to visit the RNID website to share your experience.
The Audiology Department is located in Beeden House at Bedford Hospital South Wing.  Bedford Hospital South Wing Map
Monday to Thursday – 9am to 5pm
Friday – 9am to 4.30pm
Closed for lunch 12.45pm to 2pm
Please note that the department is not open on bank holidays.
Contact us
Call reception on 01234 792191 or e-mail
If you are deaf or hard of hearing and have general hospital queries, please email.
Address: Audiology Department, Beeden House, First Floor Reception D, Bedford Hospital, Kempston Road, Bedford, MK42 9DJ.
About the Department
The Audiology Department offers diagnostic and rehabilitative audiology services for all ages.
The Department is funded to fit digital hearing aids to all appropriate patients with hearing loss using nationally recognized guidelines and standards of care.
The Department operates an appointment-only system for hearing aid repairs and replacements. Routine repairs are usually seen within two to three days.
The Department is open daily for battery replacements.
The Department offers a specialist Tinnitus and Hearing Therapy Service.
Battery Replacement Service
As well as getting your batteries from the Audiology Department, you can also obtain them from local Health Centres in and around Bedfordshire. A list of locations is available here.
Bedford:
The Surgery, 2 Goldington Road.
Pemberley Surgery, 32 Pemberley Avenue.
De Parys Medical Practice, 23 De Parys Avenue.
The Surgery, 85 Goldington Avenue.
The Surgery, 13 Linden Road.
The Surgery, 12 Goldington Road.
Rothesay Surgery, 14 Rothsay Place.
Queens Park Medical Centre, 23C Carlisle Road.
Bedfordshire:
Ampthill. Houghton Close, 1 Houghton Close
Arlesey Medical Centre, High Street.
Biggleswade. Health Centre, Saffron Road.
Biggleswade. Ivel Medical Centre, Chestnut Avenue
Clapham, Priory Medical Practice, The Glebe.
Cranfield. The Surgery, 137 High Street.
Great Barford. The Surgery, 26 Silver Street.
Great Denham. The Village Medical Centre, Kingswood Way,
Harrold Medical Practice, Peach's Close.
Kempston. Cater Street Surgery.
Kempston. King Street Surgery, 273 Bedford Road.
Kempston. St John's Surgery, 16 St John's Street.
Lower Stondon. Station Road
Marston Mortaine, 59 Bedford Road,
Potton. Greensands Medical Practice, Brook End.
Sandy. Health Centre, Northcroft.
Sandy. Shannon Court, High Street
Sharnbrook Surgery, Templars Way.
Shefford Robert Lucas Drive, Hitchin Road.
Shortstown. 2 Quantrelle Court.
Stotfold. Larksfield Surgery, Arlesey Road.
Wootton. Vale Healthy Living Centre, Fields Road.
Wootton. Pharmacy, Tithe Barn Road, Wootton.
Private Hearing Aid Service
A registered hearing aid dispenser visits the department on a weekly basis. The dispenser is usually able to see interested patients within a fortnight and offers a wider range of hearing aids than the NHS. For further information on this service, please contact the Audiology Department.
Hearing Therapy
We offer a Hearing Therapy service for adults with acquired hearing loss. This includes a tinnitus clinic and advice regarding assistive listening devices.
In some cases, assistive listening devices may be funded by the Deaf Services Team in Social Services. Call 01234 718318 for more information.  Mobile 07748 760192; Fax 01234 276186; Minicom 01234 228116; care@bedford.gov.uk
Children's Audiology
Paediatric Audiology provides hearing test services for babies, children and young adults.  The service offers management options for children with hearing difficulties, including the provision of hearing aids. The team works closely with Ears, Nose and Throat (ENT) colleagues, Paediatricians, Community Audiology Services, and Education Services (Teachers of the Deaf).  All children require an initial referral to access the service.
If your child is a hearing aid user we will offer regular reviews until they leave full time education.  We're able to offer advice when your child moves into the Adult hearing aid service or moves away to another area.  If your child's hearing aid is faulty, please contact the Audiology Department and we will endeavour to arrange a repair appointment within two working days.  If your child's ear moulds need replacing, we will endeavour to offer an appointment for ear impressions within one week of your request.
Community support services
Local Sensory and Communications Support Team for babies, children, and young adults
If your child wears a hearing aid or has specific hearing problems, the team can put you in contact with the Sensory and Communication Support Team in Beds Borough, or the Children's Services Hearing Impairment Team in Central Bedfordshire.  A teacher from one of these teams will be assigned to visit you and your child, either at home or nursery when they are very young, or at school as they get older.
Local Sensory Impairment Services for learning disabled adults
The service aims to help adults with learning disabilities access appropriate sight and hearing assessments in an environment suitable for their needs. It supports people to use their sight and hearing, use aids and adaptations and maximise the use of their senses. The service is run by SEPT (South East Essex Partnership University Foundation Trust).
The service also provides primary ear care and health promotion to clients and their carers and is based at two centres:
Clinical Resource Centre
Twinwoods Health Resource Centre
Milton Road
Clapham, Bedfordshire
MK41 6AT
Tel: 01234 310589
Beech Close Resource Centre
Beech Road
Dunstable, Bedfordshire
01582 538250
Bedfordshire Hearing Advisory Service
The Bedfordshire Hearing Advisory Service (BHAS) visits several GP surgeries every month, as well as Bedford Hospital, to offer advice and support to people affected by hearing loss, as well as basic hearing aid maintenance and new batteries.
Access Bedford
Access Bedford's aim is to work with the D/deaf and hard of hearing community to make Bedford Borough more accessible. You can find out more on their website.
Self Help
This website lists useful videos providing advice and support to help with many aspects of hearing aid use including getting used to your hearing aids and getting the most out of them, communication tips for you and your family/friends, how to clean and maintain hearing aids, including replacing parts, and how to fit your hearing aids into your ears.
Other useful links
The Bedfordshire Meniere's Support Group aims to support those suffering from and those caring for sufferers of Meniere's Disease (symptoms: vertigo plus tinnitus plus deafness and other vestibular conditions).
Luton and Dunstable University Hospital
Reception Opening Hours
Monday to Friday 9am – 1pm and 1.30pm – 4.30pm
Closed weekends and Bank Holidays
Contact us:
Telephone: 01582 497154 or email: Audiology@ldh.nhs.uk
Hearing Aid Department
Luton & Dunstable Hospital
Lewsey Road
LU4 0DZ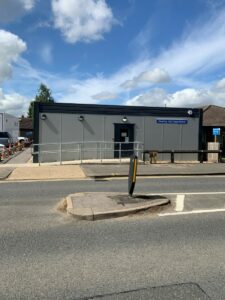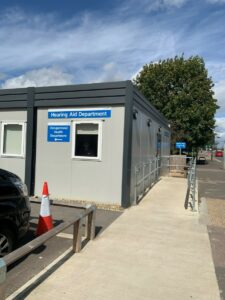 Limited parking is available outside the department which is pay & display. We do not have any responsibilities over the spaces available.
What the department offers
Hearing tests
Hearing aid service
Specialist Tinnitus & hearing therapy
New born hearing tests
Paediatric hearing aid service
Repair service
Please come to your appointment wax free. If you suspect you have wax, please contact your GP surgery or other local private provider. We do not offer this service in the Hearing Aid Department.
New patients to be referred via their GP only. Please see your GP in the first instance.
Special Requirements
If you have an appointment with us and need additional help with communication such as a language or BSL interpreter, please phone or email us.
Hearing Aid Repair Service
Repair Services are by Appointment Only
Appointments needed for
Broken or faulty hearing aids (please see separate policy regarding fees for replacing aids/devices due to loss or damaged due to negligence)
Moulds which need retubing
Moulds that are uncomfortable in the ear and need adjusting
We also operate a drop off service for those not wishing to wait: Hearing Aids can be left at Reception for repair by the patient or a family member/friend. Please make sure the Hearing Aids are in an envelope clearly marked with patient name, date of birth and contact number. We will make contact when they are ready for collection.
Looking after your Hearing Aid(s)
For clear, easy to understand video instructions on how to look after your hearing aids, and how to change and clean the tubes/domes/moulds/cordas, please visit  www.C2hearonline.com
Cleaning wires will be issued to you if your Hearing Aid requires one. You can collect replacements from reception.
Cordas/Thin tubes/Domes and mould tubes can also be collected from reception. These should be replaced every 4 to 6 months.
Batteries
Batteries are issued from the Hearing Aid Department and Main Hospital Reception. Some GP Surgeries and walk-in centres also have batteries. Please click here to see if your local surgery/centre offers this service.
Please bring your brown hearing aid book or green card to appointments and when exchanging batteries.
If you cannot attend the hospital personally, you can still ask a family member or friend to collect batteries on your behalf providing they have your brown book/green card.
Alternatively, you can send your batteries and brown book/green card in an envelope using a large first class stamp. You will need to provide an additional large first class stamp for the return postage.
Please dispose of your batteries safely. You can return used batteries to The Hearing Aid Department for recycling.
Battery Safety
Please remember that batteries are toxic. Young children and babies can suffer serious injury if they ingest a battery or put them into their ears or nostrils. A tamper-proof battery lock compartment must be fitted to hearing aids used by children 5 and under. This means that the battery compartment cannot be opened by the child. It may also be appropriate to have this fitted to adult hearing aids who may be vulnerable or have young children in their home.
You can help by:
Storing batteries in a safe place, out of reach.
Leaving hearing aids in their box and in a safe place when not in use.
Dispose of batteries correctly, either at your local recycling point or bring them to The Hearing Department Reception.
Not letting children see you change batteries.
 If you would like a locking battery compartment or have any concerns, please speak to your Audiologist.
 If you think a person/pet has swallowed a battery you must seek IMMEDIATE MEDICAL ATTENTION at your nearest Accident and Emergency Department or Veterinary Surgery.
Lost/Damaged Hearing Aids
HHS hearing aids are property of the NHS and are provided without charge to the patient, either as a single hearing aid or as a pair. There is a charge to replace hearing aids that have been lost or damaged due to negligence, with some specific exemptions.
The charges for hearing aids lost or damaged due to negligence is a flat rate of £65 for one hearing aid and £130 for two, regardless of whether it is the first loss or not.
Please note, refunds will not be provided for hearing aids found after replacements have been issued.
Please click here to see our Lost/Damaged Hearing Aid Policy and what to do if you have lost your Aid(s).