Equality Delivery System
The Luton and Dunstable NHS Foundation Trust serves a population of over 300,000 in its catchment area. Our aim is to become an exemplar organisation, in delivering respect and dignity and fairness for all, through our approach to Equality and Diversity.
Our vision is to ensure equality, diversity, human rights and inclusion are embedded in our employment practices, the service we deliver and in how we support and value our volunteers.
"The L&D is committed to delivering the best patient care, the best clinical knowledge and expertise and the best technology available and with kindness and understanding from all our staff "
To help us achieve this – The NHS – Equality Delivery System (EDS):
The NHS devised an Equality and Diversity Framework, the Equality Delivery System (EDS2), to ensure NHS bodies can implement their commitment to equality and diversity.
Background to requirements and Commitments
The Equality Act 2010 superseded all previous legislation, providing Public Sector Equality Duty for 9 personal Protected Characteristics, which are:
Age
Disability
Gender/Sex
Gender Reassignment
Marriage or Civil Partnerships
Pregnancy or Maternity
Race/Ethnicity
Religion or Belief
Sexual Orientation
Our General Duty is to:
Eliminate harassment, discrimination, victimisation or other prohibited conduct
Foster good relations, tackle prejudice and promote understanding
Advance equality of opportunity between different protected characteristics
Our Specific Duty is:
To gather, analyse and use equality data
Engage, consult and involve service users
Publish annual equality information (accessibly)Publish Equality Objectives
Report annually on progress
Use Equality Analysis to analyse and assess impact
Review our approach every 4 years
HOW THE EQUALITY AND DELIVERY SYSTEM 2 – EDS2 HELPS
We use this robust process to identify and implement real objectives, to deliver better outcomes and benefits that meet the needs of our staff and service users.
Equality Delivery System Main Text
Equality Delivery System – 9 Easy Steps
Equality Delivery System Grades Manual
EDS 4 Goals 18 Outcomes
Effective Implementation of the EDS will also support us to deliver on other areas and align our equality priorities to the Trust's organisational objectives:
The EDS's 4 Goals and 18 Outcomes will also help us to deliver on:
The NHS Constitution
The Humans Rights Act
The Care Quality Commission's Quality Outcomes
The Care Quality Commission's Equality and Human Rights
The NHS Outcomes Framework
In order to develop our Equality Objectives we have followed a robust and inclusive process. The graph below illustrates our journey so far.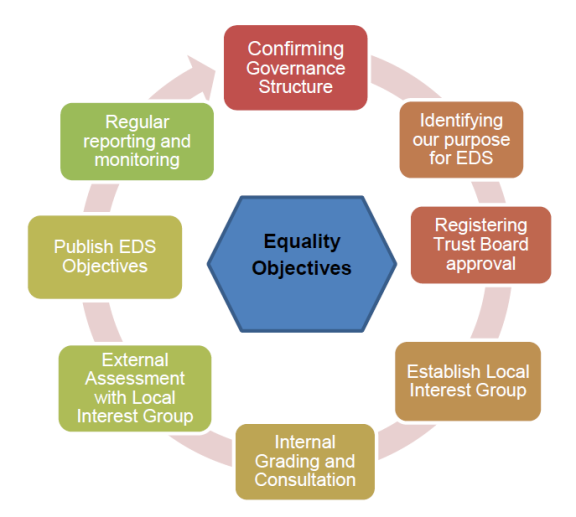 Identifying our purpose for EDS2
Our Equality Objectives, help us to continue to build on making real improvements in our services and working conditions that can be sustained over time. They also helps us to focus on what matters most for our patients, communities and staff, by seeking genuine and meaningful engagement and by transparent and effective use of Equality Information that supports proactive action.
We strive to achieve a diverse workforce that reflects the community we serve since diversity in employment produces a workforce sensitive to the different needs of our community. Our organisation will work towards eliminating discrimination, promoting equal opportunity and eradicating barriers which may hinder the fair and equal treatment of our staff and patients.
Trust Board Approval – the Trust Board is aware, involved in and approves all equality developments. They understand their role, expectations and their legal requirements. Support from the Board ensures true ownership of our actions and an understanding of accountability.
Establishing Local Interest Groups and Consultation – A main component of the EDS process is the identification of Local Interest Groups to carry out the assessment stage of our EDS journey. Luton has a well-established Borough Council system to facilitate an on-going dialogue between diverse communities and local service providers. The partnership-wide approach to consultation and engagement across the town and the Community Involvement strategy is underpinned by initiatives such as the Neighbourhood Governance (NG) mechanism.
Specifically, in terms of engaging with `local interest groups` (including those reflecting protected characteristics) work has been carried out with patient networks that would typically not be consulted can now being involved and engaged.
Internal Grading – We were able to conduct a number of evidence gathering sessions where staff was able to get together and assess what evidence were required for the EDS Objectives to be graded. The evidence was then made available in an acceptable format in preparation for the external assessment.
For further information and evidence see our EDS2 performance reports.
Assessment by Local Interest Groups – Luton EDS-Locally Empowered Advisory Delegates (LEAD) is a group of volunteers, chaired by the Chief Executive of Voluntary Action Luton (VAL) and has membership of various community organisations and staff groups covering the protected characteristics. This group was instrumental in working with us to review evidence gathered from consultation activities, identify key priorities and offer an EDS Rating for our priorities. The process included presentations from key Trust staff. Following further discussion this resulted in our Equality Objectives being identified and accepted.
Regular Monitoring and Review – Regular updates on progress are made to the Equality, Diversity and Human Rights Committee. Individual work streams and task and finish groups will be established, as required, progressing identified projects and sharing best practice to ensure that we continue to advance equality and promote equal opportunity.