Why do I need to wear ted stockings?
Thrombo–Embolus deterrent (TED) stockings are also known as compression stockings or Anti-Embolism Stockings and are specially designed that help reduce risk of developing deep vein thrombosis (DVT) or blood clot in your lower leg after Surgery.
What is deep vein thrombosis?
DVT is the name given to blood clots that can form in the veins of your leg following surgery or long periods of bed rest in hospital. If the clot becomes loose, it can break away and travel through the veins to the heart and lungs and block a major blood vessel. This is known as a pulmonary Embolism (PE) and is a serious condition which in some cases can be fatal.
There are 3 major factors that may cause a DVT to form
Inactivity or when you lie or sit in the same place for long period of time, the speed that blood flows through the legs become slower
Risk factors like smoking, elevated blood pressure damage the blood vessels.
Changes can occur in the way that blood clots due to surgeries, medication, cancer, contraceptive pill.
Signs and symptoms of DVT
If you have any of the below symptoms please arrange a same day appointment with your GP.
Lower limb swelling usually in one leg which is not related to surgery.
Warmth and redness/ skin inflammation to your calf/thigh area.
Calf pain in either leg (throbbing and/or tightness) more on standing/walking.
The below symptoms could be signs of PE a much more serious complication. You should seek immediate medical advice/ attend your nearest A&E.
Shortness of breath
Coughing with blood stained phlegm
Chest pain or discomfort
Conditions where TED stockings are not suitable to be worn
Suspected or proven peripheral arterial disease, including history of peripheral arterial bypass grafting.
Severe peripheral neuropathy or other cause of sensory impairment.
Allergy to stocking material.
Massive leg oedema or pulmonary oedema from congestive cardiac failure
Local skin or soft-tissue condition, including recent skin graft, fragile 'tissue paper' skin,  gangrene, oozing dermatitis and severe cellulitis
Extreme deformity of the leg, or unusual leg shape or size preventing correct fit.
Note: TED stockings can be worn with varicose veins, but avoid if there is open venous ulcer
How do ted stockings work?
TED anti-embolism stockings have been clinically proven to reduce the occurrence of DVT. The stockings are made of firm elastic and provide graduated compression over ankle, mid-calf
and thigh.
The compression has the effect of speeding up the circulation of the blood in your veins. This makes clotting less likely. It is important that stockings fit your leg firmly; you will be
measured for the correct size whilst in hospital.
How do I put the stockings on correctly?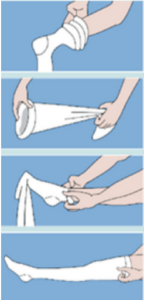 Smooth out the wrinkles and make sure the heel is in the heel pocket and the inspection hole is under your toes/ ball of foot.
Make sure you can put the stockings on and remove them yourself or have someone to help you with this.
NOTE: There is no right or left stockings. Also, you may find that placing a small plastic bag over the foot may assist in applying the TED stockings. Please ensure bag is removed once stocking is on.
Do Not
Roll down your stockings while wearing them as they will form a tight band around your leg and restrict blood flow to your leg.
Apply ointments, oils, lanolin to your leg as these products will damage the elastic fibres of the stockings.
Wear wet stockings
Cross your leg when sitting or lying down
Leave the stockings off more than 30 minutes
Wear a smaller or bigger size if the correct size is unavailable
Do
Remove your stockings before having bath/shower/wash
Check for skin problems daily before washing
Check your stockings daily to ensure they are fitting properly and maintain good elasticity.
Use a simple water based moisturiser, Eg: Aqueous cream
Change the stockings every 2-3 days
Keep well hydrated this will help improve blood flow in general
Problems
If any of the following below occur, please inform your nurse if you are in hospital / if you are at home remove stockings immediately. If symptoms doesn't resolve within an 1hr contact Hospital Home (if Ortho surgeries) / Enhanced recovery team- 01582 718169 (8am-4pm) /GP.
Stockings are too tight- signs of this include: numbness, tingling, pins and needles, pain or soreness in the foot or leg; pale/cool/discoloured foot or leg.
A rash develops- This may mean you have an allergy to the elastic fibres in the stockings. There is skin discoloration or damage such as red marks and /or sore on your toes or feet., please remove the stockings if this happens
How long will I need to wear them for?
Stockings should be worn constantly during the day and night until you get back to normal level of activity, what it was before surgery/as instructed by your doctor or nurse.
If you are under the care of Hospital at Home (mostly applicable to Orthopaedic surgical patients) the advice will be given to you by the Hospital at Home nurse's when to remove the stockings completely.
After discharge from hospital: If you cannot take off your stockings every day to wash your legs or if you have no one to help to remove and put them back on again, at least every other
day the best thing is not to wear as it will cause more harm if not cared for properly. Make sure to keep well hydrated and keep mobilizing to improve blood flow in general.
How do I care for my stockings?
Wash your stockings as often as necessary but at least every 3 days.
Wash stockings by hand or machine wash in water no hotter than 95 degree centigrade with an added non bleaching washing agent.
Spin air dry or tumble dry at maximum temperature of 70 degree centigrade.
Do not iron or dry clean.
Discard the stockings when they appear to have lost their elasticity or are damaged.
You should have been sent home with 2 pairs, one that you are wearing and an additional pair, so that you can wear one and wash one. If this is not case, please contact the ward you were on and ask them to send you another pair. You will need to know the size. This is a letter and will be printed on the foot part of the stockings. Eg: D-
References/Acknowledgements:
Mediven thrombexin manufacturer's instructions; why do I need to wear stockings? Patient information pamphlet, 2008, Bay of Plenty DHB; Anti-Embolism Stockings, patient information leaflet, Norther Devon Healthcare, NHS trust, UK.
Covidien; TED. Anti-embolism Stockings Patient information Leaflet.
Graduated Compression Stockings.CMAJ.2014 JUL 8; 186: E391-E398