Introduction
You have been advised by your GP or hospital doctor to have two investigations known as an OGD and Colonoscopy to help find the cause of your symptoms. We will need to have your formal consent before we can carry out these examinations. This leaflet explains how the examinations are carried out and what the risks are. This will help you to make an informed decision when agreeing to the examinations. This leaflet may not answer all your questions so if you have any worries please don't hesitate to ask.
What is an OGD?
The procedure you will be having is called an oesophago-gastro-duodenoscopy (OGD), simply called a gastroscopy or OGD. Gastroscopy is a procedure, which allows the doctor to examine your oesophagus (gullet), stomach and the first part of your small bowel (duodenum). A long thin flexible tube with a small video chip built into its tip, called a gastroscope is used for this procedure. Each gastroscope has an illumination channel which enables light to shine directly onto the lining of your upper digestive tract and another which relays pictures onto a television screen.
During the investigation the endoscopist may need to take some tissue samples (biopsies) from the lining of your upper digestive tract for analysis, this is painless. The samples will be looked at under a microscope in our laboratories. Photographs may be taken for your records.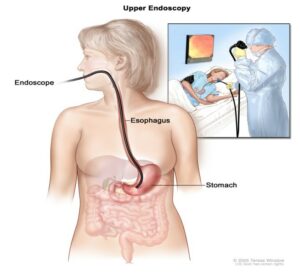 What is a Colonoscopy?
Colonoscopy is a test that allows the doctor to look directly at the lining of the large bowel (the colon) through your back passage using a flexible telescope called a colonoscope.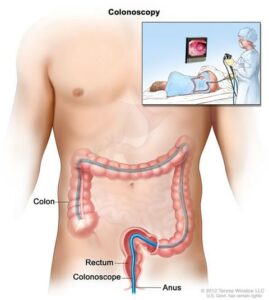 In order to carry out the test, a colonoscope is carefully passed through the rectum into the large bowel. The colonoscope is a long flexible tube, about the thickness of your index finger, with a bright light at the end. The doctor sees a clear view of the lining of the bowel and can check whether or not any disease is present. Sometimes the doctor takes a biopsy – a sample of the lining for examination in the laboratory. A small piece of tissue is removed painlessly through the colonoscope, using tiny forceps.
It is also possible to remove polyps during the colonoscopy. Polyps are abnormal projections of tissue, rather like warts, which the doctor will want to examine in detail.
Why do I need to have an OGD & Colonoscopy?
You have been advised to have this investigation to try and find the cause of your symptoms, help with treatment and if necessary, to decide on further investigations.
There are many reasons for this investigation including:
Indigestion
Anaemia
Weight loss
Vomiting
Passing black motions (malaena)
Vomiting blood (haematemesis)
Difficulty swallowing
Rectal Bleeding
Altered Bowel Habit
Iron Deficiency Anaemia
Abnormal Findings
Assessment of Inflammatory Bowel Disease (IBD)
Polyp Surveillance
Other types of surveillance
Family History of Bowel Cancer
Banding of Haemorrhoids
Are there any alternative procedure?
Your doctor has recommended OGD as it is the best way of diagnosing most problems with you upper digestive system.
A barium meal is an x-ray test of your upper digestive system. This test is not as accurate as an OGD, and if your doctor finds problem, you may still need an OGD to perform biopsies or provide the treatment.
A Urea breath test can be used to detect a germ (helicobacter pylori) that can cause stomach ulcers.
A colonoscopy is recommended as it is the best way of diagnosing most problems with your large bowel.
Other options include a CT colography (CT scan of your large bowel). However, if your doctor finds a problem, you may still need a colonoscopy to treat a problem or perform biopsies.
This would mean that there will be separate appointments for specific procedures, wherein an OGD and Colonoscopy will be done in one visit, therefore saving you time and inconvenience.
What will happen if I decide not to have the procedures?
Your doctor may not be able to confirm what the problem is. If you decide not to have this procedure, you should discuss this carefully with your doctor.
Pre Assessment Appointment
Once you have a booking date you will be pre-assessed over the phone. Please ensure you have contact details of your next of kin, escort and a list of your medicines to hand. The nurse will go into detail about the procedure, check your medical history and answer any questions you may have.
Medication
Seven days before the procedure: stop taking any iron preparations.
If you take Warfarin, Clopidogrel, Apixaban, or other blood –thinning medication, let the endoscopist know at least 7 days before the procedure.
Please stop taking Aspirin when you start taking your bowel preparation.
If you are diabetic and taking tablets or Insulin, please contact the endoscopy unit if your pre-assessment hasn't been done 2 days before your procedure. You will need special advice depending on your type of diabetes. Please also ensure the Endoscopy Unit is aware so that your appointment can be made at the beginning of the list.
You will be told what to do with regards to your medication at your telephone pre-assessment.
The Preparation
To allow a clear view, the colon must be completely empty of waste material. If it is not, certain areas may be obscured and the test may have to be cancelled or repeated. It is important to follow the detailed instructions of the laxatives about clearing the colon. Please try to follow the diet sheet provided for 3 days before you commence your bowel preparation.
It is important to take the entire laxative prescribed and also considerably increase your intake of clear fluids on the day before examination, which will help clean the bowel. You will need to be close to a toilet facility during this period, you may find a barrier cream useful, such as Sudocream or Vaseline if you become tender or sore.
If you have any issues with the bowel preparation, please contact the Endoscopy unit.
Brief instructions if you are given Moviprep/Plenvu (follow Moviprep/Plenvu leaflet for detailed instructions)
The Day Before your examination
Morning Appointment
Do not eat anything after 9am (after breakfast)
Do not eat again until after your examination
You can have sips of water up 2 hours before your appointment time
Afternoon Appointment
Do not eat anything after 1pm (after lunch)
Do not eat again until after your examination.
You can have sips of water up 2 hours before your appointment time
PLEASE FOLLOW A LOW RESIDUE DIET FOR 3 DAYS BEFORE TAKING YOUR BOWEL PREP
What is a low fibre (residue) diet?
Dietary fibre (also known as roughage) is the part of plants that cannot be easily digested. Some of it passes through the body without being absorbed.
A low fibre (low residue) diet will help you to reduce the volume and frequency of your stools. It also lengthens the time food passes through your gut.
Eating a variety of different foods will help you get the nourishment you need to stay healthy. This leaflet gives ideas on what food to eat and also which foods to avoid while you are on a low residue diet.
WHAT FRUIT AND VEGETABLES CAN I EAT?
FRUIT
Foods allowed (limit to 1 portion per day):
Fruit juice (no bits)
Bananas
Mango, papaya
Pineapple (without the core)
Melon, watermelon
Fruit with the skins removed e.g. peeled apples, pears, peaches, plums, nectarines, apricots
Pureed, stewed or cooked fruit (without skins, pips or stones)
Tinned fruit
Fruit sauces and coulis with pips removed e.g. sieved raspberry coulis, apple sauce
Foods to avoid:
Fruit juice with bits
Smoothies
Fruits with skins on e.g. grapes, cherries, blueberries
Citrus fruit
Coconut
Pineapple core
Rhubarb
Berries and fruits with seeds e.g. strawberries, raspberries, blackberries, kiwi,
All dried fruit e.g. raisins, cranberry
VEGETABLES
Foods allowed (limit to 1 portion per day):
Well-cooked root vegetables e.g. carrots, parsnips, swede, turnips
Butternut or gem squash
Pumpkin
Peeled marrow, courgette, squash
Well-cooked cabbage, broccoli and cauliflower (no tough stalks)
Peeled and de-seeded tomato, cucumber, peppers
Avocado
Smooth vegetable soups
Well cooked, softened onions and garlic (as a paste)
Foods to avoid:
All skins, pips and seeds
Tough stalks of vegetables e.g. cauliflower, broccoli
Raw vegetables
Asparagus
Aubergine
Brussel sprouts
Leeks, spring onions
Raw or undercooked onions and garlic
Pickled onions, gherkins
Sweetcorn
Peas, sugar snaps, mangetout
Green, French and runner beans, broad beans
Mushrooms
Spring greens
Beetroot
Celery
Radish
Lettuce, rocket, watercress and spinach
Whole tomatoes
Bean sprouts
Pak choi
Soup with whole vegetables e.g. minestrone
Chicory, fennel
Olives
WHAT STARCHY FOODS CAN I EAT?
BREADS AND CEREALS
Foods allowed:
Rice Krispies®, Cornflakes, Coco pops®, Frosties®, Cheerios®
White flour, cornflour, rice flour, potato flour
White bread, rolls, baguettes
Seedless rye bread
White pitta bread
White tortilla wraps
Crumpets, plain or cheese scones, scotch pancakes
Croissants, brioche
Melba toast, crackers and crispbreads (without seeds and grains)
Rice cakes
Plain white bagels
Plain white
Foods to avoid:
Wholemeal, wholegrain and bran cereals e.g. All Bran®, Branflakes®, Weetabix®
Cereals containing dried fruit, seeds or nuts e.g. Sultana Bran®, Fruit n Fibre®, Muesli, Crunchy Nut Cornflakes®
Special K® (all types)
Oats, porridge, Ready Brek®
Granola
Wholemeal flour, wholegrain or granary flour
Chickpea flour, cornmeal
Wholemeal, 50/50, granary, malted, seeded or multigrain bread and bread products
Bran
Barley, pearl barley, spelt
Wholegrain or seeded crackers or crispbreads
Oat cakes
Cereal bars containing nuts,
Seeds and fruit
POTATO, RICE AND PASTA
Foods allowed:
Peeled white or sweet potatoes (boiled, mashed, fried or roasted)
Plain hash browns
White rice
White pasta
Yorkshire pudding
Pastry
Waffles
Rice pudding
Couscous, bulgar wheat,
Quinoa, gnocchi, tapioca, sago
Foods to avoid:
Skins of jacket potatoes
Brown and wild rice
Wholemeal pasta
Hash browns made with onion
WHAT PROTEIN FOODS CAN I EAT?
MEAT, FISH, POULTRY, EGGS AND MEAT SUBSTITUTES
Foods allowed:
Most types of fish, meat and meat Products i.e. fresh, frozen, tinned
Smooth paté and liver sausage
Eggs
Tofu
Quorn
Soya mince
Corned beef
Foods to avoid:
Skin and bones of fish
Convenience items which contain whole grains and vegetables e.g. onions, peppers
Coarse paté made with onions
Avoid Bacon, Sausages, Black/White Pudding
PULSES, NUTS AND SEEDS
Foods allowed:
It is best to avoid all varieties of pulses, nuts and seeds. If you are vegetarian have a very small portion since these foods are a very good source of protein.
Foods to avoid:
All varieties of pulses e.g. lentils, chickpeas
All varieties of beans e.g. borlotti, cannellini, kidney, soya, baked beans and broad beans
All nuts
All seeds e.g. sunflower, pumpkin, sesame, poppy
Peanut butter
Houmous
WHAT DAIRY FOODS CAN I EAT?
Foods allowed:
All types of milk e.g. cow's, goat's, sheep's, soya, rice, oat
Cream, crème fraiche
Buttermilk
All types of cheese (without dried fruit and nuts)
Butter, margarine, spread
Smooth yoghurt
Ice cream and sorbet
Custard
Foods to avoid:
Cheese containing dried fruit or nuts
Yoghurt containing whole fruit, nuts or seeds or pips
Ice cream and sorbet containing nuts, seeds and whole fruits
WHAT SWEET TREATS CAN I EAT?
Foods allowed:
Cakes made with white flour (without dried fruit or nuts)
Plain biscuits e.g. Rich tea, shortbread
Pancakes
Jelly (without fruit)
Boiled sweets
Chocolate (without dried fruit and nuts)
Toffee
Jelly sweets
Marshmallows
Smooth nougat
Foods to avoid:
Cakes made with wholemeal or wholegrain flour
Cakes made with dried fruit and nuts
Wholemeal and wholegrain biscuits e.g. Digestives, Hobnobs®
Biscuits containing dried fruit e.g. fig rolls, Garibaldi®
Hot cross buns, tea cakes, fruit scones
Cereal bars containing dried fruit and nuts
Flapjacks
Jelly made with fresh berries
Chocolate with nuts and dried fruit
Nougat made with nuts and dried fruit
WHAT SAVOURY TREATS CAN I EAT?
Foods allowed:
Crisps
Plain bread sticks
Cheese straws
Mini cheddars or TUC® sandwich biscuits
Smooth dips e.g. taramasalata, smooth guacamole
Foods to avoid:
Nuts
Popcorn
Bombay Mix
Dips that contain whole tomatoes, cucumbers, onions e.g. salsa, tzatziki
WHAT CONDIMENTS CAN I EAT?
Foods allowed:
Tomato ketchup
Smooth mustard
Brown sauce
Worcester sauce
Soya sauce
Mayonnaise, salad cream
Salt and pepper
Dried herbs
Powdered spices
Gravy
Seedless jam or marmalade
Lemon curd
Honey
Golden syrup, maple syrup
Marmite®, Vegemite®, Bovril®
Foods to avoid:
Pickles and relishes
Chutneys
Wholegrain mustard
Stalks and leaves of fresh herbs
Jam with seeds
Marmalade with peel
Salad dressing with wholegrain
Mustard
On the day of the procedure
You may drink clear fluids up to 2 hours before your examination. Clear fluid is water, smooth fruit juice (not containing bits), fruit squash, fizzy drinks, tea or coffee without milk.
What Happens when I arrive?
When you arrive at Reception you will be asked to take a seat to wait to be called by the admissions nurse. Once in admissions they will explain the procedure and go through your pre assessment to make sure there have been no changes in your health. You will then be asked to get changed and prepared to see the Endoscopist. The Endoscopist will go through a consent form with you and ask you to sign it. The consent may also be obtained by a trained nurse. This is to ensure you understand the procedure and its implications and risks. If you have any worries or questions don't be afraid to ask. The staff want you to be as relaxed as possible for the procedure and will not mind answering your queries.
If you have sedation, the nurse will insert a small cannula into the back of your hand or arm during the admission to make you ready before you go to the procedure room.
Both procedures can be done without sedation: a throat spray will be offered for gastroscopy and Entonox (Gas & Air) for Colonoscopy. However it is recommended to have sedation if you have someone that can look after you.
The nurse will ensure you understand the procedure and you will be offered the choice of sedation or have it done without sedation.
If you have sedation you will not be permitted to drive home or use public transport on your own, so you must arrange for someone to collect you from the hospital and stays with you for 12 hours. The nurse will need to be given their contact details so that they can contact them when you are ready for discharge.
Your blood pressure and heart rate will be recorded and if you are diabetic, your blood glucose level will also be recorded. INR will be checked for patients taking Warfarin and ensure that it is within range for the procedure to be carried out safely (please note that the procedure may be cancelled if it's not safe to do it).
Throat spray or sedation for OGD?
You will be given the choice of whether you wish to have the examination performed with a local anaesthetic spray or sedation. If you wish to have the examination performed under local anaesthetic the doctor will spray the back of your throat to make it all numb, this helps to reduce the gag reflex prior to the doctor passing the endoscope down into your gullet. Once the procedure is complete you will be able to eat and drink after 30 minutes of having the throat spray. You will then be able to leave the endoscopy unit unaccompanied, as you will be awake throughout the procedure.
Sedation will involve giving you an injection into your vein that may make you drowsy and relaxed but not unconscious. You will be in a state called conscious sedation: this means that although you are drowsy you will still hear what is said to you and therefore be able to follow simple instructions during the investigation.
Once the procedure is complete the nurses will monitor you until you are fully awake. The nurse will advise you when you can eat and drink. You may need to wait to speak to the doctor.
During the Test
The Doctor/Endoscopist will begin with the Gastroscopy procedure first.
A gastroscopy often takes less than 10 minutes, although it may take longer if it's being used to treat a condition.
You will be taken into the examination room where the endoscopist and the nurses will introduce themselves and you will have the opportunity to ask any final questions.
You will be asked safety questions about you and your health prior to the procedure.
The healthcare team will monitor your heart rate, and oxygen levels using a finger clip. They will also monitor your blood pressure.
You will be sitting up to spray your throat with some local anaesthetic and ask you to swallow it. This can taste unpleasant. It is most commonly described as bitter banana flavoured. (If you have any dentures, you will be asked to remove them first).
The nurse looking after you will then ask you to lie on your left side. You will be given a small plastic mouth guard to put between your teeth to protect them during the examination. The sedative will be injected into a vein in your arm or hand at this point and you will quickly become sleepy. If you need oxygen (essential when having sedation) the nurse will give it to you through a small tube with a sponge under your nostril. A small suction tube, rather like the one used at the dentist, will be placed in your mouth to remove any saliva or other secretions produced by your mouth during the examination. You will be able to breath normally through your nose.
The endoscopist will place a flexible telescope (gastroscope) into the back of your throat. They may ask you to swallow when the gastroscope is in your throat. This will help the scope to pass easily into your oesophagus and down into your stomach and first part of the small bowel, called the duodenum. A small amount of air will be blown into your stomach to help the endoscopist see clearly. This may be uncomfortable, but shouldn't cause any pain.
During the procedure the doctor may take a small sample of tissue to check for any infection or inflammation. This is called a biopsy. This procedure is painless and you will probably not be aware of it being done.
If the doctor finds a narrowed area in your oesophagus, called a stricture, which may be causing difficulties in swallowing, it may be possible to provide treatment at the same time as the endoscopy. This would involve passing a small balloon down the scope to help dilate the stricture to relieve swallowing difficulties.
You will then be turned around on the trolley and the scope will change to the colonoscope, and the second procedure will begin. A colonoscopy usually takes 30-45 minutes, although again it may take longer if it's being used to treat a condition or if you have multiple polyps that need removing.
You will be made comfortable on a couch, resting on your left side, with your knees slightly bent. A nurse will stay with you throughout the test and will continue to monitor your heart rate, oxygen level and blood pressure.
When the tube has been gently inserted through the anus into the large bowel, air will be passed through it to give a clearer view of the lining. This may give you some wind-like pains but they will not last long. You may get the sensation of wanting to go to the toilet, but as the bowel is empty, there is no danger of this happening. You may pass some wind but, although this is embarrassing, remember the staff do understand what is causing it. If you are finding you have discomfort you will be offered Entonox (Gas & Air) to help relieve the pain. When the examination is finished, the tube is removed safely.
Sometimes the doctor takes a biopsy – a sample of the lining for examination in the laboratory. A small piece of tissue is removed painlessly through the colonoscope, using tiny forceps. It is also possible to remove polyps during the colonoscopy. Polyps are abnormal projections of tissue, which the doctor will want to examine in detail.
After the test, how soon will I recover?
After the test, you will be transferred to the recovery area where you will be continually monitored until fully awake, if you had sedation. If you were not given a sedative, you can normally be discharged straight away. You may have a sore throat and feel a little bloated with wind pains but these usually settle quite quickly. Once you have recovered from the procedure and sedation (approximately 30minutes), the cannula will be removed and you will be able to get dressed. The nurse will also go through your report and the results of your procedure.
A nurse will take you to the Endoscopy discharge lounge and you will be given refreshments while you wait for your transport home. Once your escort has arrived to collect you from discharge lounge , if you have sedation, your escort will need to sign the discharge form , being the responsible adult who will look after you in the next 12-24 hours.
Results
Before you leave the department, a nurse or doctor will explain the findings of your examination and discuss any changes of medication and further investigations or appointments you may require, for example, if a sample (biopsy) has been taken or polyps removed for examination. The results may take 4-6 weeks and will be sent to your GP or referring consultant. Due to the effects of the sedation, many people find they forget everything that has been said to them. You may receive a written report to aid your retention of this information.
Going home
If you had sedation, it is essential that a responsible adult comes to the hospital to pick you up and stays with you for 12 hours.
Once home, it is important to rest quietly for the remainder of the day. You may resume your normal diet and prescription medicines unless otherwise instructed by the doctor. The effects of the test and injection should have worn off by the next day, however the effects of the sedation can last for up to 24 hours, so for this time you must not:
Drive a car;
Operate machinery;
Drink alcohol;
Sign any legal documents; or
Be responsible for small children or other dependants.
There may be a small amount of blood in the stool for a day or two if a polypectomy or biopsy has been carried out.
You are advised against foreign/remote travel in the 2 week period (if you have had a polyp removed) after this procedure; please discuss any concerns with the nursing team.
Potential Risks
Gastroscopy & Colonoscopy can result in complications, such as reactions to medications, perforations (tears) of the stomach/intestine, and bleeding. These complications are very rare (occurring in less than one in 1000 examinations), but may require urgent treatment and even an operation. The risks are slightly higher when a colonoscope is used to apply treatment, such as the removal of polyps.
Be sure to inform your GP or us if you have any severe pain or vomiting, passage of a large amount of blood or a temperature greater than 101F/38C in the hours or days after colonoscopy. When a biopsy is taken from the lining of the stomach there is a very small risk that bleeding may occur. Usually this will stop by itself. If bleeding continues you may have to stay in hospital to be observed until the bleeding stops.
Women taking the oral contraceptive pill should be aware that taking bowel preparation might prevent the absorption of the pill. Additional contraceptive precautions should be taken until the next period begins.
Points to Remember:
If you are unable to keep your appointment please notify the Endoscopy unit as soon as possible
It is our aim for you be seen and investigated as soon as possible after your arrival. However the department is busy and your investigation may be delayed. If emergencies occur, these patients will obviously be given priority over less urgent cases.
The hospital cannot accept any responsibility for the loss or damage of personal property during your time on these premises.
Concerns
If you have any queries regarding the procedure please contact the endoscopy unit between 8am and 6pm Monday to Sunday and the nursing staff will be happy to give you information or advice.
FOLLOWING THIS PROCEDURE YOU MUST NOT DONATE BLOOD FOR 4-6 MONTHS
The reason for this is that your ability to donate blood in the future is dependent upon your diagnosis and the possibility that you might need to undergo further investigations or complete treatments. (British Society of Gastroenterology, 2019)
Lifestyle changes
If you smoke, stopping smoking will improve your long-term health. Try to maintain a healthy weight. You have a higher risk of developing complications if you are overweight. Regular exercise should improve your long-term health. Before you start exercising, ask the healthcare team or your GP for advice.
Summary
Gastroscopy and Colonoscopy are procedures that are usually a safe and effective way of finding out if there is a problem with your upper and lower digestive tract system. However, complications can happen. You need to know about them to help you make an informed decision about the procedure. Knowing about them will also help to detect and treat any problems early.
Some information, such as risk and complication statistics, is taken from global studies and/or databases. Please ask your doctor for more information about the risks that are specific to you. This document is intended for information purposes only and should not replace advice that your relevant healthcare team would give you.