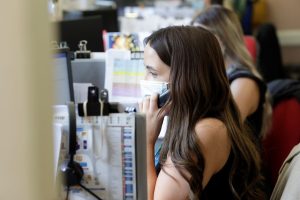 The Outpatients Call Centre at the L&D will be piloting extended opening hours during January and February 2023, to provide increased flexibility for patients needing to cancel or change their outpatient appointments.
The department can be contacted on 01582 561385, Monday to Friday between 8:30am and 5pm. However, throughout January and February, they will available 8:30am to 8pm on Tuesdays and Thursdays.
If the pilot is successful, these hours may remain in place.
Georgina Coupe, General Manager for Patient Access, said: "Introducing extended hours in our Outpatient Call Centre at the L&D will allow patients to avoid waiting in queues during peak hours, making it easier for them to cancel or change their appointment."
This does not include appointments for Maternity, Breast Screening, Sexual Health, Endoscopy, Imaging/X-ray, Limb-Fitting, Orthotics, Neurophysiology, Physiotherapy, Speech and Language Therapy, Audiology, Anaesthetics or Mental Health.
For these appointments, the department can be contacted direct on the telephone number quoted on the appointment letter.