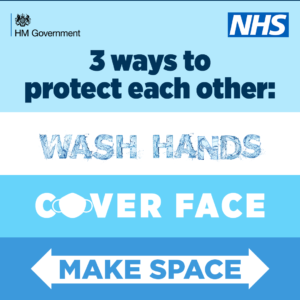 Bedfordshire Hospitals NHS Foundation Trust would like to remind patients and visitors of current guidance and restrictions in place when attending Bedford Hospital and the Luton and Dunstable University Hospital. We must minimise the number of people in the hospital and reduce the risk of spreading infection to protect our patients and staff.
Facemasks
Please remember to wear your facemask at all times whilst on either hospital site (excluding those who are medically exempt).
Your hospital appointment
Although some outpatient appointments are being completed virtually or by phone, there are times when we do need to see you in person and it is important that you attend unless we've told you otherwise.
We know this is a very anxious time for our patients coming into hospital but please be assured we are doing all we can to keep everyone on both our hospital sites safe. This includes:
Extra measures in place to support social distancing
Hand sanitisers are at all entrances and exits
Staff are also wearing appropriate Personal Protective Equipment (PPE)
If we call you in for a face to face Outpatient appointment, we ask you to kindly attend alone to help us reduce the footfall at both hospitals, preventing further spread of the virus. This of course does not apply to our paediatric patients (one adult parent/guardian to attend with patient) or for some of our adult patients who may require a certain level of carer support.
Maternity
In light of the current situation with COVID, restrictions at both of our Maternity Units (Bedford and the L&D) will not be relaxed any further. One partner can currently:
Accompany women at their dating scan (11 to 14 wks)
Accompany women at their 20 wks scan
Stay with women during all times whilst on the Delivery Suite not just in established labour
Visiting on our maternity wards will be reintroduced as soon as it is safe to do so. It's important to note that these restrictions could change at short notice if it becomes unsafe to continue.
Visiting restrictions
We are still unable to allow any visitors on either site except in Maternity (as per above), NICU, Children's departments and for those patients who are receiving end of life care (these arrangements will need to be pre-booked and managed by the Ward Manager or Sister in charge).
Let's all work together to play our part in slowing down the spread of Coronavirus by following the national guidance of washing our Hands regularly, wearing our Facemasks and maintaining a 2m Space from others.