Pupils at Challney High School for Girls have raised over £8,500 for the Luton and Dunstable University Hospital's (L&D) breast cancer unit after taking part in their 2023 Race for Life.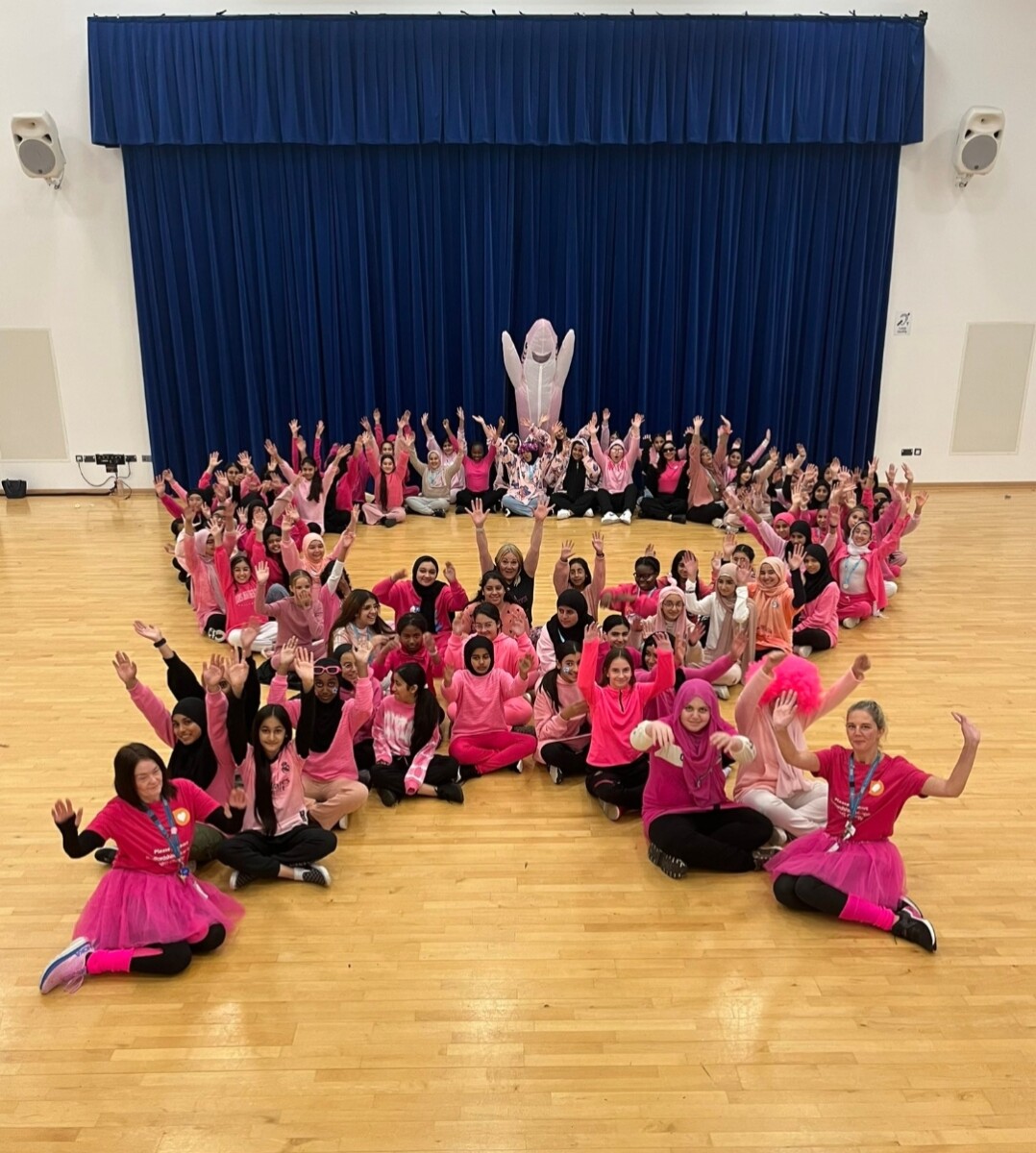 The annual event is held in October as part of Breast Cancer Awareness Month with over 1,000 students and staff taking part.
Traditionally participants would run or walk round their outside field 11 times, however due to the weather this year, a last minute decision was made to hold it inside.
The students go above and beyond to raise additional funds by holding cake sales, selling pizzas and dressing up as characters.
Bedfordshire Hospitals NHS Charity were delighted to be selected for the sixth time as the schools' charity of choice for their event.
Over the past six years, the funds raised from Challney High School for Girls have purchased equipment to mark the site of cancer in the breast, before surgery. This provides a signal on where to find the cancer during the operation, even when it is too small to feel, allowing an improved experience for those having the operation and removing the need to have a wire inserted.
Additional ultrasound machines have been purchased, so patients can be seen sooner when they notice a change in their breast, and in most cases this puts their minds at ease.
Another device purchased is an ultrasound probe which can connect to a mobile device. This allows a patient to be scanned in the operating theatre or ward, eliminating the need for them to attend the off-site breast screening unit.
With funds raised, the department is planning on purchasing equipment to identify whether women have a condition called lympoedema, which can occur after breast cancer treatment. If it is treated at an early stage it is often much easier to live with, and will improve the patient's experience.
Miss Kath Kirkpatrick, Consultant Surgeon at the L&D, said: "The students are amazing, and are touching the lives of so many people with what they are doing. We are all deeply touched by their generosity."
Sabine Hazell, Schools Co-ordinator for Bedfordshire Hospitals NHS Charity, added: "Challney High School for Girls never cease to amaze me with their incredible passion to make a difference to the local community. Miss Ponsonby and Miss Dolan work tirelessly every year to make sure the day is a success.
"You can feel from the atmosphere that everyone is there to support, have fun and help make a huge difference. It really is a highlight of my year."
Miss Nic Ponsonby, Deputy Head Teacher at Challney High School for Girls said: ""As an all-girls school in Luton, raising money for our local breast cancer unit is so important to us all.
"1 in 4 women are likely to have a diagnosis of breast cancer in their lifetime, so to be able to support and contribute to purchasing equipment to make this difference is just so humbling. It also helps to raise the profile of the importance of screening for women.
"It is simply a privilege to work with the breast cancer unit to do this. Our students, staff and families are the most generous people, when it comes to social action and to see the difference we make as school community, makes everything so worthwhile".