13th March 2019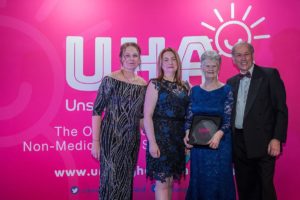 Eileen McMahon, one of the Luton and Dunstable University Hospital's (L&D) longest serving volunteers has been recognised for the outstanding contribution she makes to the community, winning the Lifetime Achievement Award at the national Unsung Hero Award held earlier this month.
Eileen has been a volunteer at the L&D for nearly 45 years, offering NHS skin camouflage treatment for patients who suffer from debilitating skin conditions, disfigurement or scarring.
Living with a visible disfigurement can pose a serious emotional and psychological challenge. Many people experience feelings of being self-conscious and may have low self-esteem, some even have to come to terms with being stared at and ridiculed or bullied.  Skin camouflage can transform lives. Using her skills and experience, Eileen supports not just adults, but children too, patiently and diligently sharing her expertise, recommending products and teaching patients how to apply the prescription makeup and creams. This reduces the prominence of their condition, and gives them more confidence to face everyday life.
Eileen was nominated by Voluntary Services Manager Karen Bush who said: "Eileen is so empathetic, kind and caring and offers a unique service to our patients, including those with cancer. She has contributed enormously and given her time so freely. She also volunteers as a Skin Camouflage Practitioner for the charity 'Changing Faces'. She truly changes lives not just faces.
"On behalf of our patients, past, present and future, we cannot thank her enough and it is wonderful for her to be recognised for all that she does for others."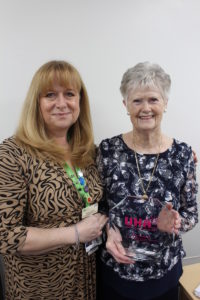 Eileen said: "I feel so humbled to have won this award considering how many amazing non-medical NHS workers and volunteers were nominated.
"I love working at the L&D and what I do makes it all worthwhile when it changes lives. I'm honoured to have the knowledge and experience to help vulnerable people.
"I have previously won the Queens' Badge of Honour and British Empire Medal but this is the cherry on top!"
The Unsung Hero Awards is to shine a light onto the hard work that non-medical staff and volunteers of the NHS strive towards on a daily basis.