Parents Room – Riverbank Ward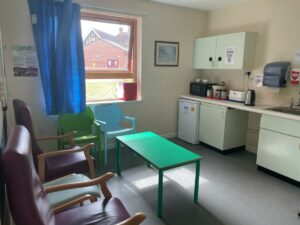 The Riverbank (children's) Ward's parent kitchen needs some urgent TLC. If you could imagine having a sick child in hospital, as a parent you are staying on site, you need a drink or something to eat or just somewhere to sit for 5 minutes then this is that space.
The space will be renamed The Snug as we will make it all snuggly and comfy! It will have a woodland/riverside theme and offer kitchen facilities, a tea/coffee machine, a fridge and vending machine. It will have also have comfortable sofas, chairs and books to read making the space the best it can be. We need to raise £20,000 for this appeal.
To support this appeal, you can:
Fundraise for us. Please contact fundraising@bedfordhospital.nhs.uk for a fundraising pack
Make a donation via our JustGiving page
Send a cheque made payable to Bedfordshire Hospitals NHS Charity to the Charity Team, Voluntary Service Office, Bedford Hospital, Kempston Road, Bedford, MK42 9DJ. Please place Parents Room on the back of the cheque
Make a payment over the phone. Call 01582 718 289 and speak to a member of the team
Make a BACS payment. Please email fundraising@bedfordhospital.nhs.uk for bank details.