Charity Shop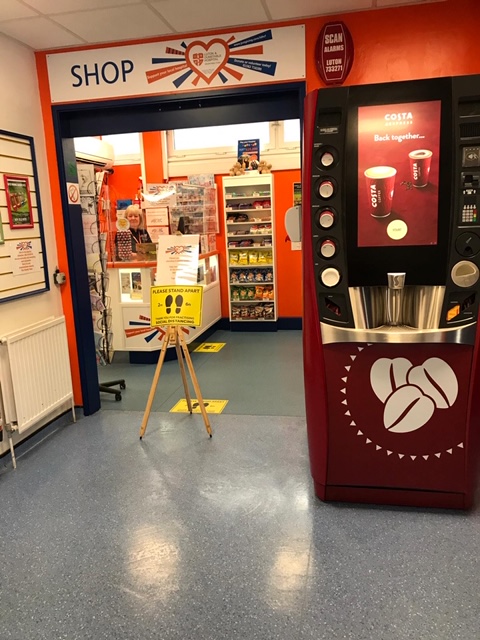 Located on the ground floor of the Maternity Unit at the Luton and Dunstable Hospital, our shop is a great way of supporting the Charity, whether that is by buying your lunch, treating yourself to an ice cream, purchasing a gift or signing up to our fundraising events. We also have a Costa Coffee machine outside the shop available 24 hours a day, 7 days a week.
Staff and volunteers are entitled to 10% off any food or drink products (unless price marked), when showing their ID badge.
Support us by purchasing from our Charity Shop! Every purchase will support our hospitals and their staff, patients and visitors.
Opening Times
Monday to Friday 08.00 – 18.30
Saturday and Sunday 10.00 – 17.00
Bank Holidays 09.00 – 18.30 (closed Easter Sunday, Christmas Day, Boxing Day and New Years Day)
We will be closed on Easter Sunday, Christmas Day, Boxing Day and New Years Day
---
The Mayors of Luton, Dunstable and Houghton Regis as well as the Deputy Mayor of Harpenden attended our official launch day on 14th February 2020. Since that day, the shop has gone from strength to strength.
We have served 74,717 customers
The average customer spend is £2.95
We have welcomed 29 incredible volunteers with 12 currently supporting
The collection tin from the shop has generated £1,132.51
Thank you for your continued support!
Food Hygiene Rating
The Charity Shop Team are pleased to say that we had our first inspection on the 3rd December 2021 and were awarded a 5 star Food Hygiene rating by the Food Standards Agency and Luton Borough Council.
Costa Coffee Inspection
On the 22nd June 2022, the shop team had a surprise visit from their Costa Coffee Rep, Sophie Morris. While onsite Sophie inspected the machine and stock. We are pleased to announce that the machine and team scored 100% for cleanliness, competency and compliance meaning we have been awarded a Certificate of Excellence. View the certificate here.
Our Suppliers
Ali's Paper
Balloonz
Booker
Brakes
Costa Coffee
Customena
Dr Anita Mittal
Lesley Hobey
Raynor Foods
Thinksew Embroidery
And several generous knitters!
Trolley Service
The team will be launching a trolley service, which will visit wards and offices around the Luton and Dunstable Hospital site. This will be a lifeline for patients who are unable to leave their beds as well as staff who are too busy to leave the ward.
It will run twice a day 10.00-12.00 and 14.00-16.00 Monday to Friday making a huge difference to people who are for whatever reason unable to visit the shop.
To enable us to run the service we will need the help of volunteers. If you are over 18 and want to make a difference, please get in touch for more details.
Contact Details
Email BHNCharityHub@ldh.nhs.uk
Ext. 7439
Shop Ext. 2839
Mobile 07800 711 370
Instagram @bhn_charityshop
Twitter @bhn_charityshop
Other Upcoming Plans
Online service for merchandise
Gift cards
Expanding the opening hours
Second Costa machine
Vending machine(s)
Ability to take merchandise out to external events
Expanding the "Born at" merchandise to Bedford Hospital
Suggestion Box
If you have any ideas or suggestions for the shop please let us know by either visiting the shop or sending an email.
Volunteering
We wouldn't be able to do all these amazing things without the help of our incredible team of volunteers. If you are anyone you know is interested in volunteering in our shop or you have any questions please contact the shop team BHNCharityHub@ldh.nhs.uk/7439 or VoluntaryServices@ldh.nhs.uk/7384.