Charity Shop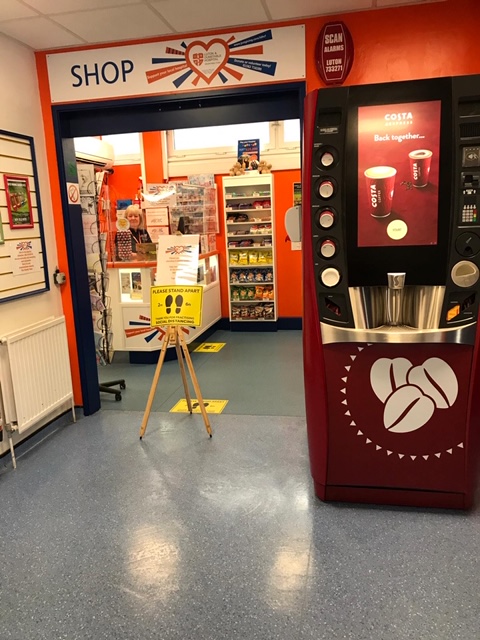 Located on the ground floor of the Maternity Unit at the Luton and Dunstable Hospital, our shop is a great way of supporting the Charity, whether that is by buying your lunch, treating yourself to an ice cream, purchasing a gift or signing up to our fundraising events. We also have a Costa Coffee machine outside the shop available 24 hours a day, 7 days a week. Staff and volunteers are entitled to 10% off any food or drink products (unless price marked), when showing their ID badge. Support us by purchasing from our Charity Shop! Every purchase will support our hospitals and their staff, patients and visitors.
The Mayors of Luton, Dunstable and Houghton Regis as well as the Deputy Mayor of Harpenden attended our official launch day on 14th February 2020. Since that day, the shop has gone from strength to strength.
We have served 74,717 customers
The average customer spend is £2.95
We have welcomed 29 incredible volunteers with 12 currently supporting
The collection tin from the shop has generated £1,132.51
Thank you for your continued support!
Opening Times
Monday to Friday 08.00 – 18.30 Saturday and Sunday 10.00 – 17.00 Bank Holidays 09.00 – 18.30 (closed Easter Sunday, Christmas Day, Boxing Day and New Years Day)
Christmas 2022 Opening Times
Saturday 24 December (Christmas Eve) – 10am to 4.30pm
Sunday 25 December (Christmas Day) – Closed and no Costa Coffee machine
Monday 26 December (Boxing Day) – Closed
Tuesday 27 December (Bank Holiday) – 8am to 6.30pm
Wednesday 28 to Friday 30 December – 8am to 6.30pm
Saturday 1 January (New Years Day) – Closed
Monday 2 January (Bank Holiday) – 8am to 6.30pm
---
Our Suppliers
Ali's Paper
Balloonz
Brakes
Costa Coffee
Customena
Dr Anita Mittal
Several generous knitters
And more, pictured below!