Charity Shop
We have recently opened our first shop!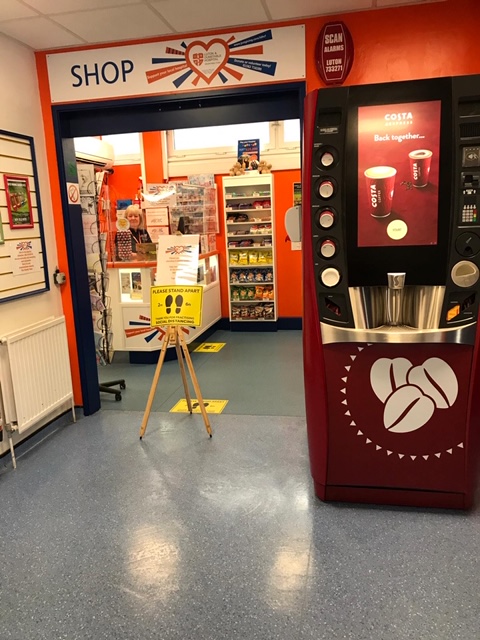 Located on the ground floor of the Maternity Unit at the Luton and Dunstable Hospital, our shop is a great way of supporting the charity, whether that is by buying your lunch, treating yourself to an ice cream, purchasing a gift or signing up to the hospital lottery. We also have a Costa Coffee machine outside the shop available 24 hours a day, 7 days a week.
Staff are entitled to 10% off any food or drink products, when showing their ID badge.
Support us by purchasing from our charity shop. Every purchase will support your hospital, team and patients.
Opening Times
Monday to Friday – 8am to 6.30pm
Saturday and Sunday – 10am to 5pm
Bank Holiday's – 9am to 6.30pm (closed on Christmas Day, Boxing Day New Year's Day and Easter Sunday)
Launch Day
On the Luton and Dunstable University Hospital's birthday in February 2020, we held the grand opening of the shop. It was officially opened by the Mayors of Luton, Dunstable and Houghton Regis as well as the Deputy Mayor of Harpenden. It was a fantastic day with sandwich tasting, plenty of cake and lots of support from staff, volunteers, ambassadors and the public alike.
Our Suppliers
Raynor Foods
Balloonz
Thinksew Embroidery
Costa Coffee
Booker
Upcoming Plans
We have lots of ideas for the future including a fruit and veg box ordering service for staff, as well as a fruit stall in the Surgical Block once a week. We will also be running a ward trolley service for patients who are unable to leave the ward.
Volunteering
We wouldn't be able to do all these amazing things without the help of our incredible team of volunteers. If you are interested in volunteering in our shop or have any questions please contact the Charity Hub Manager Donna.Pratt3@ldh.nhs.uk/01582 718289 or VoluntaryServices@ldh.nhs.uk/01582 497384.