Because of you
Because of you, we support 620,000 patients and their families and 7,600 nurses, doctors, health care assistants, estate workers and support teams. We have been able to support items above NHS provision, understanding the difference we can make together, to patients lives both now and in the future.
To keep up to date on how your donations, support and time have supported our hospitals, follow us on social media.
We're on Facebook, Twitter and Instagram – give us a like!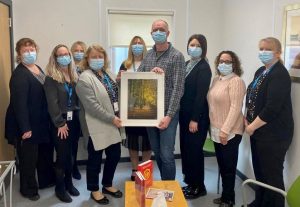 Photograph in Occupational Health
Julian Higgs – a member of the Bedfordshire Community was sat in one of our Hospital waiting rooms, and whilst looking at the artwork on the wall he decided he wanted to give back to his local hospital. Photography is a much loved pastime of his, and on a journey home he drove past some woods in Ampthill. As the sunlight hit the golden leaves, he decided to stop and capture this moment. The piece he donated to us was taken on this day and is a much loved piece of his family and supporters. The donated photo now sits proudly in our Occupational Health Department at the L&D site where our colleagues can sit and look at this piece, which exudes calmness and tranquility, whilst waiting for their own appointment.
---
Music Therapy for NICU
Following last year's success of purchasing 12 iPods for music therapy on the unit, we are now in a position to purchase one iPod per cot. The potential benefits of delivering music therapy are:
Improved physiological responses to NICU stressors (Heart Rate, Respiratory Rate, Oxygen levels, sleep state)
Improved/quicker weight gain
Decreased Length of stay in NICU
Enhance parent/baby bonding
Improved learning, decision making and emotion regulation
Decreased speech and language problems
Deliver innovation in care and be the first trust in East of England to deliver music therapy
---
CT Cone Beam Scanner
As the regional centre for Throat and Neck Cancer, our L&D's Oral and Maxillofacial Surgical (OMFS) team now offer this advanced piece of diagnostic machinery.
The CT Beam scanner studies the bones and structure of the face and mouth and produces 3D images, as opposed to normal 2D X-rays, although it can be used for these conventional scans as well. It will benefit 800 patients a year, including those needing orthodontic procedures – largely children and teenagers – ENT patients, and patients with maxillofacial trauma.
---
Allen Spinal Table
A new Spinal table to support all spinal procedures at the Luton and Dunstable Unviersity Hospital.  Medical technology moves incredibly quickly, and as a Trust the L&D strive to make sure the best innovations can be available to our talented surgical teams, in order to help our patients. We are very fortunate to have been awarded funding from a local grant giving organisation for an Allen spinal table, which will support over 100,000 frail and vulnerable patients to receive a full range of spinal procedures and the best possible treatments close to their homes.
---
Ultrasound scanner (Breast Unit)
Working with the L&D, Charity Ambassador Denise Coates along with the help of Lisa Scheder and Challney High School for Girls, combined their efforts to raise thousands of pounds towards the purchase of a new ultrasound scanning machine for the hospital's Breast Unit.
Challney Girl's school, Denise and Lisa were able to collect enough money for the Hospital Charitable Fund to make up the difference and purchase the scanner. A generous donation from former patient Angela Garrathy also helped reach the ambitious target in just over a year.
We're always looking at ways to improve services and are glad that with the help of the community we can make these important changes, allowing us to continue to deliver the best care for our patients.
---
CPAP Machine (Cardiac)
The Dunstable Masons and Mould family recently donated the money to purchase a new Continuous positive airway pressure (CPAP) machine for our cardiac ward. CPAP therapy is a common treatment for obstructive sleep apnoea.
---
Ultrasound scanner (Urology)
The Mark Master Masons of Bedfordshire recently donated £14,816.27 to the Urology Department which has subsequently allowed us to purchase a new ultrasound sound scanner. This scanner will help in detecting signs of prostate cancer in its very early stages.
We would like to thank the Mark Master Masons for making this purchase possible.
---
Starmedtec Laser Machine (Urology) 
With your fundraising efforts we have been able to purchase a high end laser for Urology surgeries.
---
Fabian Evolution (NICU)
Via our Fundraisers' recent activity, the NICU was able to purchase a top of range ventilator. The Fabian evolution ensures a premature baby is supported during the early stages of their life.
Thank you to Stacey and Kevin who together with all of your donations, we have been able to purchase a Brainz Machine which is the latest equipment in monitoring babies in the NICU unit.
---
Accuvein Scanner (Chemo Unit)
The Accuvein scanner was another medical device purchased by our Chemo team due to your fundraising and donations.
This device helps for better vein visualization that helps reduce difficult venous access by 21%.
---
Hospira Plum 360 (Chemo Unit)
The Hospira Plum is a specialist pump that allows for two different drugs to be administered at once. Thanks to your donations and fundraising our Chemo Unit managed to purchase one of these machines costing around £3000 including V.A.T.
---
Parents Room (NICU)
We were grateful for help with fundraising which enabled us to open the Parents Room in the NICU.
This lovely lounge gives families a place to take a break and spend time with other family members, whilst their baby is nearby.
---
Parents Lounge (Children's Wards)
Thanks to fundraising and some generous donations from Sainsbury's Bramingham, we have refurbished the Parents Lounge on the Children's Wards. There is a new kitchen with a microwave and fridge, along with some comfy chairs for the parents to use.
This room gives parents a place to have something to eat and drink, whilst having some time away from the ward.
---
Eyesi Device
The Eyesi Training Device is a great addition for our Ophthalmology Department.
The Trust carries out over 2200 cataract procedures each year and demand is growing as our target patient population grows. With this device, our trainees and surgeons will train on a 3D simulator which will enhance their competence and skill. This will result in shorter waiting times for cataract surgery which will benefit our patient.
---
Blue Light Cysocopy Device (Urology)
We are grateful for donations that have enabled us to buy this device which will give the patients a 40% better detection rate for bladder cancer. It is less invasive, and provides a clear visualisation of the tumour for removal under the blue light. This in turn leads to a 10% reduction in reoccurrence and a longer time between reoccurrence where it occurs.
We would like to make this diagnosis and treatment a simpler, better and less distressing one for patients, offering them the best possible support for their cancer. Over 200 people will benefit directly from this device and even more will benefit from having those 200 people in their lives.
---
Magic Carpet Projector
The donation of a magic carpet projector made by the Wallace and Gromit Children's Foundation has made a huge difference to the lives of many children and babies who are poorly or undergoing treatment at the hospital. The projector has surpassed our hopes and we have seen increased mobility in patients who have multiple and mental disabilities while using it. Children from babies to teenagers enjoy the different functions and themes. On a daily basis staff have used it as a distraction from treatment and to promote physical and sensory stimulation.
---
Birthing pool and chair
Thanks to fundraising, our maternity department has seen the addition of a new birthing pool in the consultant led suite. As well as the new pool, there are also some comfortable chairs which can be extended into beds for a birthing partner to stay.
---
Dementia Activity Kits
We have received activity kits for our dementia patients to use while they are in hospital. These include knitted items and twiddle muffs, which are great for our patients with dementia.
---
Christmas presents for our patients
We were very grateful to everyone who helped us to give a gift to every patient on Christmas Day. We received lots of presents from our Amazon Wishlist, as well as donations from local companies, stores and schools. Full details of all of the donors can be found in our past news section. Thank you to everyone who helped with Christmas presents.
---
Chapel Redevelopment
Following redevelopment, the Chapel has now been officially reopened and updated so it can cater for today's spiritual needs and support more people. The hospital employs a diverse workforce with staff from a range of religions, belief and cultural communities. This is reflected in the way that the Chapel is used, with people from both Christian and other faith communities often praying at the same time.
The new development includes; a new altar, new seating, flooring, lighting, projector and built in screen, prayer candle tree, a cabinet to store religious items, a hearing loop system, wheelchair / mobility friendly doors and lots of paint.
Martyn Trembath, Lead Chaplain added, "We are very grateful for the support we have received. Contributions to the Chapel development have enabled us to provide a better environment for people to worship, pray and reflect; for years to come."
---
Three patient monitors (For NICU)
The Charity Team was approached by Shaun Drury in February 2021 after his experience in NICU back in October 2020 changed his and his wife Laura, life's forever.
On 15 October 2020, Shaun's son, Olly was born, unfortunately he had some major complications which led to him needing to be resuscitated. A horrendous 15 minutes went by before Shaun saw his chest rise unaided, although only shallow movements.
Dr Jean Egyepong, one of the NICU Consultants explained about the procedure used to monitor Olly in those first few minutes of him being born. They relied on a doctor intermittently stopping resuscitation in order to listen with a stethoscope for a heartbeat and if present, count the heart rate. This process is slow and every now and again pauses the resuscitation process, which in turn this pauses the oxygen delivery that is needed for vital organs.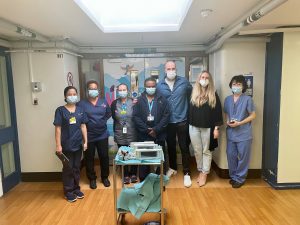 There is a particular machine that can do all the above instantly which is known as Patient Monitors!
Due to this, Shaun started his fundraising journey, not to help just purchase one but three of these vital pieces of equipment, two for theatre and one in the event like he needed for emergency situations, which could be stored in a mobile emergency bag ready to go.
If you have a ward close to your heart, you too can support them by purchasing vital equipment, please contact us on Fundraising'ldh.nhs.uk to find out more!
---
Riverbank Youth Space
With help of Bellway Homes and the Caravan Club, our Riverbank Ward at Bedford was able to create a 'Youth Space', a new safe space for our older/teen patients to use and enjoy, away from a clinic setting.
This space includes a TV where they can escape from their beds and have some time away from the 'hospital setting'
---
Retro Headsets
With thanks to Chiltern Academy, Bedford Hospital and L&D Hospital were able to purchase Retro Headset to benefit our Dementia Patients.
These headsets can be plugged into devices such as iPads to make it easier and more familiar for our patients suffering with dementia when taking phone calls to speak to loved ones.
---
St Mary's Sensory Garden
Earlier this year, the Charity team was pleased to open a Sensory Garden in our St Mary's Day Unit!
Members of our Charity team and other hospital Staff and volunteers from both L&D and Bedford Hospital worked extremely hard to make huge improvements to the courtyard garden in St Mary's Wing. We was able to create an outdoor sensory space for our elderly patients, including those living with dementia.
The garden provides a peaceful environment for patients and includes areas for sitting, interactive games and loads of flowers that the patients can help water which is great for rehabilitation!
---
Sensory Voyager
With great thanks to Luton Sixth Form College, our Children's Ward at Luton and Dunstable Hospital was able to purchase a Sensory Voyager.
This piece of equipment can be used from new-born to adolescent patients and has lots of fantastic functions to help stimulate patients whilst in hospital, and encourages them to communicate!
---
Opening of new Parents Accommodation on Meadowbank ward
On Friday 5 November, we saw the opening of the new parents accommodation rooms on Meadowbank ward at Bedford Hospital.
With thanks to Bedfordshire Hospitals NHS Charity, both rooms have been completely refurbished. Each room also contains a TV and wall-mounted stand, generously donated by Bedford Hospital Charity & Friends.
The goal of this project was to provide parents with a tranquil space, allowing them to rest and recuperate away from the busy ward.
Chairman of Bedford Hospital Charity & Friends, Debbie Inskip said: "These rooms have been beautifully furnished and are both elegant and cosy, they will be a real haven of peace for worried parents."
---
Julian Higgs, a member of the Bedfordshire Community, was sat in one of our hospital waiting rooms and whilst looking at the artwork on the wall, decided he wanted to give back to his local hospital. Photography is a much loved past time of his and on a journey home he drove past some woods in Ampthill, with the sun light hitting the golden leaves he decided to stop and take some photos. The piece he donated to us was taken on this day and has been a much loved piece by his family and supporters on his social media and website. The donated photo now sits proudly in our Occupational Health Department at the Luton & Dunstable site where our colleagues can sit and look at this peaceful piece while waiting for their own appointment.
---