Critical Care Garden
The Critical Care Team, with support from the Charity Team, are raising funds to enhance the external features of the ITU and HDU – now known as Critical Care – for their patients, visitors and staff.
Having access to fresh air and outside spaces during a hospital stay can make a huge difference to those who are able to access the space. The balcony garden will also be hugely beneficial to our staff for respite from busy and demanding shifts on the ward.
For patients, the ability to be close to nature and in the fresh air has a positive impact. It helps to:
Reduce stress and fatigue
Promote more positive emotions
Support recovery, nurturing and healing
Provide a positive distraction for patients and families
Provide mental health well being
For staff, working in a critical care setting can be taxing on their health. Critical Care wards are often subject to high levels of stress. Looking towards nature can:
Positively impact staff performance
Increase staff wellbeing
Provide a positive distraction and reduce work related stress
Andy's story
Andy has suffered with a bowel disorder for all of his life. In 2016, Andy found himself in the Emergency Department receiving many tests to find out why his body was beginning to shut down. Andy was diagnosed with Crohn's Disease and ended up in a lifesaving five hour operation. Andy spent 3 days in the HDU feeling very unwell, but being very well cared for. Outdoor space would have boosted his health and may have allowed him to leave the HDU earlier. This appeal is Andy's opportunity to give back.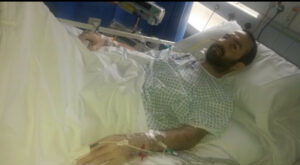 The team have been busy fundraising to reach their goal of £50,000 to support the lighting, seating and planting of the garden. So far they have held very successful cake sales and a craft sale within the hospital raising over £3,000.
Sam, Georgia and Donna, members of the Critical Care Team, took part in The Great North Swim to raise funds and have raised a whopping £2,278 – double their target!
Creasey Town Football Club held a charity football match at their grounds on 21st May 2023 raising £1,900 towards the appeal.
To support this appeal, you can:
Make a donation via our JustGiving page
Fundraise for us. Please contact fundraising@ldh.nhs.uk for a fundraising pack
Send a cheque made payable to Bedfordshire Hospitals NHS Charity to Charity Team, L&D Hospital, Lewsey Road, Luton, LU4 0DZ. Please place Critical Care Garden on the back of the cheque
Make a payment over the phone. Call 01582 718 289 and speak to a member of the team
Make a BACS payment. Please email fundraising@ldh.nhs.uk for bank details.