Making your donation
So what do you do now you've completed your fundraising activities? Don't worry, it's easy!
Cheque
You can send us a cheque by post. Please make it payable to 'Bedfordshire Hospitals NHS Charity and include a note with your name, address, phone number and that it is for the Sky Panel Appeal.
Send to: Charity Team, Luton and Dunstable Hospital, Lewsey Road, Luton, LU4 0DZ
Don't forget to fill in the donation form on the next page and send it in with your cheque!
Please never send cash in the post.
Credit or Debit Card
You can make a BACS payment directly to our account or pay by credit or debit card.
Call the Fundraising Team on 01582 718 289 for more details or to make a donation.
Cash
Please be careful when you collect cash. We recommend NOT carrying too much cash with you. It is safer to make your donation by cheque, credit/debit card or online, but should you want to make your donation in cash please call the Fundraising Team to arrange a suitable time to bring it in.
Online Sponsorship pages
If you have set up an online sponsorship page then it's already sorted! When someone makes a donation to your page it comes straight to our charity account. You don't need to worry about collecting money afterwards or sending in any forms and the Gift Aid is automatically worked out and paid too!
Company Match Giving
Remember to ask your employer if your donation is eligible for company match giving. Some companies will donate £ for £ for any money you raise. This means you can double your donation at no extra cost to you (you might have to fill out a few company forms). Some companies prefer to make a one-off donation. Speak to your HR team for details.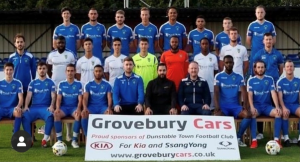 Dunstable Town Football Club raised £2,500 from a sponsored walk to support our COVID-19 Fund! After this, they decided to continue their support and have now made us their Charity of the Year, in aid of our Cancer Unit.
Sainsbury's, Bramingham Park, donated £4,000 to the NICU Appeal after they chose it as their Charity of the Year!