Schools Newsletter
Thank you to Nurseries, Schools & Colleges
Welcome to the first 2023 edition of Bedfordshire Hospitals NHS Charity news. Here you will see the incredible support we have received from Nurseries, Schools and Colleges over recent months!
We've had sponsored runs, choir performances, festive support, delivered NHS Careers Sessions (including 2 SEND Schools) and lots more!
Between October 2022 and February 2023 we have received an absolutely amazing amount of donations totalling nearly £24,000, from our local Nurseries, Schools and Colleges!!
Firstly a huge thank you to Challney High School For Girls and Putteridge High School for organising sponsored runs in October 2022 and raising incredible amounts of money for the L&D Hospital.
Challney Girls raised nearly £8,400 for our Breast Cancer Unit – bringing the schools total since supporting us in 2018 to over £37,600! This would not happen without the incredible passion and drive from Miss Ponsonby and Miss Dolan, the whole school and their wider community. As well as this they also chose to support two of our Appeals for Good Causes Week in February raising £2897.77. I was recently invited to a radio show on Inspire FM hosted by Miss Nic Ponsonby to talk about the charity and incredible work Challney Girls do to support their local community – it was a pleasure to be part of the show!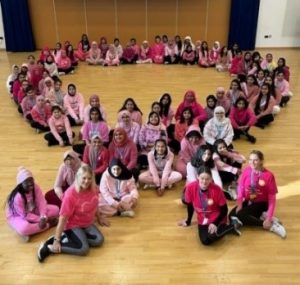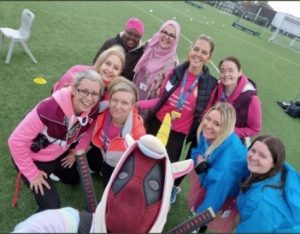 Miss Hannah Hayes with Yr 11 student Alfie from Putteridge High School, who was the inspiration for their fundraising, after a long battle with Leukaemia he proudly rang the bell in October 2022! They raised an absolutely incredible £10,151.35 for the L&D Cancer Unit!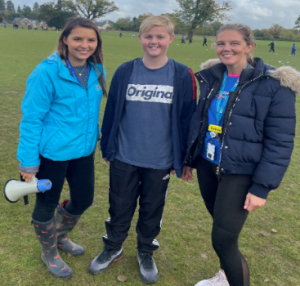 Thank you so much to all involved!
A huge thank you also to Beechwood Park School who fundraised and purchased gifts to the value of £1,800 for our Children's Ward, as well as Luton Sixth Form College who donated just over £500 which enabled us to purchase gifts for two Elderly Wards for Christmas Day. Harlington Upper School also donated £153.94.
Chiltern Academy and Downside Primary sang at festive songs at Curry's Luton and The Ferrars Academy sang in the local community, Tots Academy and High Beeches Primary School took part in Jolly Jumper Day and Chalk Hills Academy donated gift hampers.
Earlier in 2022 we also received donations from Challney High School for Boys (£1,237.97) and Friends of Roundwood Primary School (£1,327) for our Children's Critical Care Room Appeal.
On behalf of the whole Charity Team, I would like to thank each and every person who made these incredible donations possible, including staff, friends and families who support the children's fundraising efforts, especially given the difficult times so many of us are facing currently. We really do appreciate you and all you do help to make a difference to your local hospital.
If you've read this and are inspired to get involved, I'd love to hear from you! I can support your fundraising with us, it's a great way for students to learn new skills, gain confidence and a sense of pride by supporting their local community. We can also do joint fundraising with the school where the donations are split between your school and the hospital. For more information, email sabine.hazell@ldh.nhs.uk or call 07870 856 981.