Our Sky Panels Appeal
Supporting the Sky Panels Appeal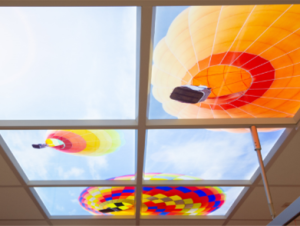 If you have ever had a child need emergency care, you know how scary it can be. We are currently working with our medical and redevelopment teams to create a new emergency department, supporting the teams to make the space more friendly and less scary for children. We are asking for donations to raise funds for interactive optical sky panels that can be fitted into our children's emergency department.
The optical sky panels help to make the space feel less scary for children, reducing the clinical look which in turn can help reduce their feelings of anxiety and fear. They do this by creating an illusion of being outside and of brighter days, offering a different focus for children needing emergency care.
Owning a set of sky panels
If you choose to fundraise for a whole set of panels, you can 'virtually' own those panels. We will celebrate your amazing contribution by placing a plaque to commemorate your fundraising for this appeal. This is a great way to engage your colleagues, family, friends, or class mates to fundraise alongside you. You can turn it into a competition as to who can run the most/ raise the most/ hop the most/ sell the most cakes. All support is gratefully appreciated and will help brighten a sick child's day.
Celebrate and donate!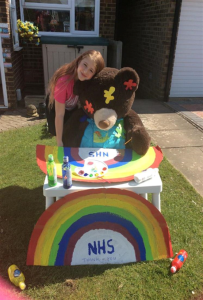 Over the years, we've had lots of fantastic donations from supporters celebrating special occasions!
Whether it is a birthday, anniversary or wedding, asking friends and family for a donation instead of gifts is an amazing way to mark the special occasion, whilst supporting your local hospital at the same time!
Elliot Quince produces World Cup Wall Charts every year and sells them in aid of the Neonatal Intensive Care Unit's Parents Accommodation. Since 2016 he has raised £29,268.85.
Mr Hugley is a rather large bear who kept everyone happy during lockdown and raised £6,998.02 with his online antics.
How your donation will make a difference
Donations help fund enhancements to make our patients stay more comfortable and less distressing. Money raised by this appeal will buy the Interactive Sky Panels and any additional equipment required so our patients and their families are treated in the best possible environment. Below are some examples of the type of things your donation could buy.
£316.50 will buy 1 interactive panel in one of the treatment rooms or in the corridor.
£1,266 will buy 4 interactive panels in one of the treatment rooms.
£2,848.50 will buy 9 interactive panels along the corridors where patients will be transferred.
£23,000 will pay for all the sky panels to be installed.
Contact us
Email fundraising@ldh.nhs.uk for a PDF copy of the Fundraising Guide and a Submission Form.
For more information, call the team on 01582 7189289.
Thank you for taking the time to visit the website and brighten a child's day.