Because of You – NICU
A new GE Shuttle for patient transport
The Shuttle is a transportable power source that can be attached to beds, incubators and warmers. The Shuttle connects to provide electrical power, as well as provisions for medical gas management. This is required for patient care during transport around the hospital, providing continuous patient management without interrupting critical points of treatment like IV medications and monitoring. Premature babies need a warm, stable, thermal environment. That's because their lives depend on it. And when they need to be transported from the labour room to the NICU, the Shuttle system does more than just make that journey away from mum gentler – it makes it safer too.
---
3 New NiRS Monitors
This system provides real-time monitoring of changes in oxygen in the blood, brain or body tissues in neonates. This plays an important role as a valuable "first alert" because it monitors for deteriorating patient conditions. As a centre that provides therapeutic cooling, this provides additional information for these vulnerable babies.
---
Music Therapy
Following last year's success of purchasing 12 iPods for music therapy on the unit, we are now in a position to purchase one iPod per cot. The potential benefits of delivering music therapy are:
Improved physiological responses to NICU stressors (Heart Rate, Respiratory Rate, Oxygen levels, sleep state)
Improved/quicker weight gain
Decreased Length of stay in NICU
Enhance parent/baby bonding
Improved learning, decision making and emotion regulation
Decreased speech and language problems
Deliver innovation in care and be the first trust in East of England to deliver music therapy
---
Fabian Evolution 
Via our Fundraisers' recent activity, the NICU was able to purchase a top of range ventilator. The Fabian evolution ensures a premature baby is supported during the early stages of their life.
Thank you to Stacey and Kevin who together with all of your donations, we have been able to purchase a Brainz Machine which is the latest equipment in monitoring babies in the NICU unit.
---
Three patient monitors
The Charity Team was approached by Shaun Drury in February 2021 after his experience in NICU back in October 2020 changed his and his wife Laura, life's forever.
On 15 October 2020, Shaun's son, Olly was born, unfortunately he had some major complications which led to him needing to be resuscitated. A horrendous 15 minutes went by before Shaun saw his chest rise unaided, although only shallow movements.
Dr Jean Egyepong, one of the NICU Consultants explained about the procedure used to monitor Olly in those first few minutes of him being born. They relied on a doctor intermittently stopping resuscitation in order to listen with a stethoscope for a heartbeat and if present, count the heart rate. This process is slow and every now and again pauses the resuscitation process, which in turn this pauses the oxygen delivery that is needed for vital organs.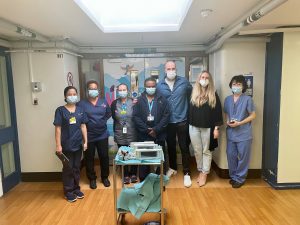 There is a particular machine that can do all the above instantly which is known as Patient Monitors!
Due to this, Shaun started his fundraising journey, not to help just purchase one but three of these vital pieces of equipment, two for theatre and one in the event like he needed for emergency situations, which could be stored in a mobile emergency bag ready to go.
If you have a ward close to your heart, you too can support them by purchasing vital equipment, please contact us on Fundraising'ldh.nhs.uk to find out more!
---
Parents Room (NICU)
We were grateful for help with fundraising which enabled us to open the Parents Room in the NICU.
This lovely lounge gives families a place to take a break and spend time with other family members, whilst their baby is nearby.