The Blossom Project
Ensuring patients who are at the end of their life receive the best possible care is something we are passionate about at Bedfordshire Hospitals.
The Blossom Project, supported by Bedfordshire Hospitals NHS Charity and funded by NHS Charity's Together, enables volunteers to provide support and companionship for those receiving End of Life Care and their families at both Bedford and Luton & Dunstable Hospital. This project ensures that, wherever possible, no one dies alone.
The volunteers sit with them, play peaceful music, read to them and maybe hold their hand if appropriate. They also offer respite and support for families/friends.
Since the project began, Luton Blossoms and Bedford Blossoms have made over 1025 visits and dedicated over 1638 hours of their time. 13 patients have died with a Blossom volunteer sitting with them.
Feedback
Ursula (pictured below) has been a Blossom for over 2 years at the Luton site. Here's what she had to say…
'This role has given me so much and I feel privileged to be part of it.'
In addition, below is a quote from one of our service users…
'My mother recently passed away at the L&D following a severe stroke. My brother and I were touched by the support and time that the Blossom Volunteers gave to mum in her final days, whilst she was receiving end of life care. We would like to thank these volunteers, and of course all the nurses and doctors, who cared for mum so well. Thank you!'
Not only do we support our service users, aid in the feeling of fulfilment of our volunteers but we also help nursing staff by giving the family/friends and their loved ones a luxury that nursing staff simply do not have. Time.
Here's what the Ward 14 DME manager said…
'I have had great experiences regarding the Blossom volunteers and have had some lovely feedback from the relatives regarding the bedside manner of the volunteers. They are very caring and willing to listen and are very attentive, for example providing tea and coffee.'
Blossom Volunteering Project Celebration Event
On Thursday 23 February, the Blossom Volunteers attended a Celebration Event to celebrate the programme's successful first year, its impact at both sites, and to thank the volunteers for the invaluable work they do in supporting End of Life Care patients and families.
Simon Linnett addressed the volunteers to say: "in my view there is no greater contribution you can make than your time, and you don't just give your time, you give of your emotional support and I can't frankly thank you enough for that. It is the noblest form of giving, and you clearly do it to great effect. I am a businessman by background so I often refer to statistics, but they don't begin to underscore the benefit that you offer."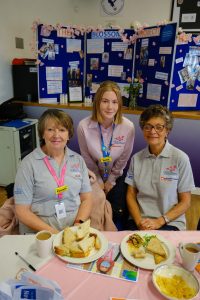 Jan Chalkley spoke to say: "We are so proud, I don't think we can say that enough. It all started because we were seeking to improve the quality of End of Life Care in a compassionate way. It's not just about the equipment and the nice touches, it's about the people, and the care and support that you all give."
Karen Bush said: "I was chatting with one of our volunteers who had seen an elderly patient who just wanted her family, who sadly weren't there. That lady might not have had her family there, but she had the comfort of her volunteer."
On behalf of Debbie Allman, who sadly was not there due to Covid, Karen said: "today is all about celebrating success, and it is wonderful to see so many of our wonderful volunteers here today… It's your kindness, your care, and your humanity that really count."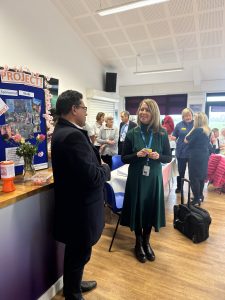 Liz Lees said: "In End of Life Care, the little things are really the big things, which makes the most difference to the patient. Don't underestimate the impact you have on families, patients, and staff, they will absolutely remember you. For patients, even if they are unable to respond to you, they will know that you are there."
To close the event, Annie Tucker said to the volunteers: "thank you all for your dedication, none of this could happen without you. It takes special people to turn up with a smile on their face every day knowing what you're about to do, but all of you do it. I find myself looking forward to hearing about your visits, working with you is wonderful, and doing this job has restored my faith in humanity."
2023 Sponsored Walk
Save the date for the second Blossom Sponsored Journey, taking place on Saturday 17 June! The annual walk is to raise money for the Blossom Volunteer Project, the voluntary group that offers support and companionship for patients receiving End of Life Care.
The walk is from the L&D Hospital to Bedford Hospital, around 19 miles in total. Last year's Journey was a huge success, raising £1,200 for Blossom.
If you like a challenge and would like to help raise awareness and funds, please contact Annie or call 07855 169492. Spaces are limited so get in touch early!