Therapy Teams
Help us… Beat the boredom!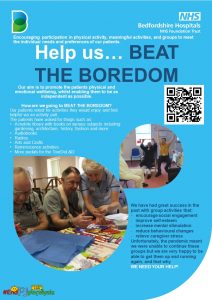 The L&D strives in promoting physical and emotional well-being during a patients stay in hospital as they can often feel stripped of their independence and freedom, however here we like to try and limit this as much as possible!
Our support workers/therapy teams has been working closely with the Charity to compile a list which includes items to benefit patients during their stay, whether they are here for a day, a month or even longer.
Our Support workers held an activity poll where our patients voted for items they would enjoy, find helpful and most beneficial during their stay and recovery. There is so many benefits to these items, please see our poster below for one of our great success stories!
If you would like to support us and make a change, please visit our Amazon Wishlist.