Ways to fundraise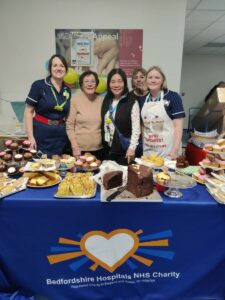 There are SO many ways you can get involved and support Bedfordshire Hospitals NHS Charity… and there is help at hand if you need assistance with ideas and planning, or if you have any questions.
All the documents below can be downloaded and printed off to help you get started with your fundraising. If you need any additional information, or have any queries, please do not hesitate in calling 07812 493445 or 07870 856981 or email us on fundraising@ldh.nhs.uk, fundraising@bedfordhospital.nhs.uk
Fundraising ideas
JustGiving – online sponsorship form
Setting up your own personalized sponsorship form is easy and it is the most effective way of getting your family, friends and colleagues to sponsor you!
It takes about 5 minutes to set one up and then you can email the link to people so they can start donating instantly!
The best pages are the personalized ones. So if you can put a photo up and include a message about which department you are raising money for and why you have chosen to support that area.
To start making your own page please click here.
Working from home?
Are you currently working from home and unsure what to do with your used ink cartridges?
You can now recycle your ink cartridges, raising funds for us, at no cost to you!
We are working with think inks, a company providing a fast and reliable inkjet cartridge collection service!
You can donate your used ink cartridges. For more information visit https://think-inks.uk/charities-and-organisations/
How can you donate?
If you would like to make a donation or are wondering how to pay in money you've collected from an event or sponsored challenge simply download our donation form.
Frequently Asked Questions
Please click here to view our Frequently Asked Questions (FAQs).
Sponsorship Form
You can download a Sponsorship Form to collect sponsorship.
Gift Aid
If you are a UK taxpayer, you may wish to add Gift Aid to your donation.
Gift Aid is reclaimed by the Charity from the tax you pay for your current tax year. If you wish to add Gift Aid to your donation, please contact us.
Contact Us
If you need any further information or help please give us a call on 01582 718 289 and 01234 79 22 13.