Light up a life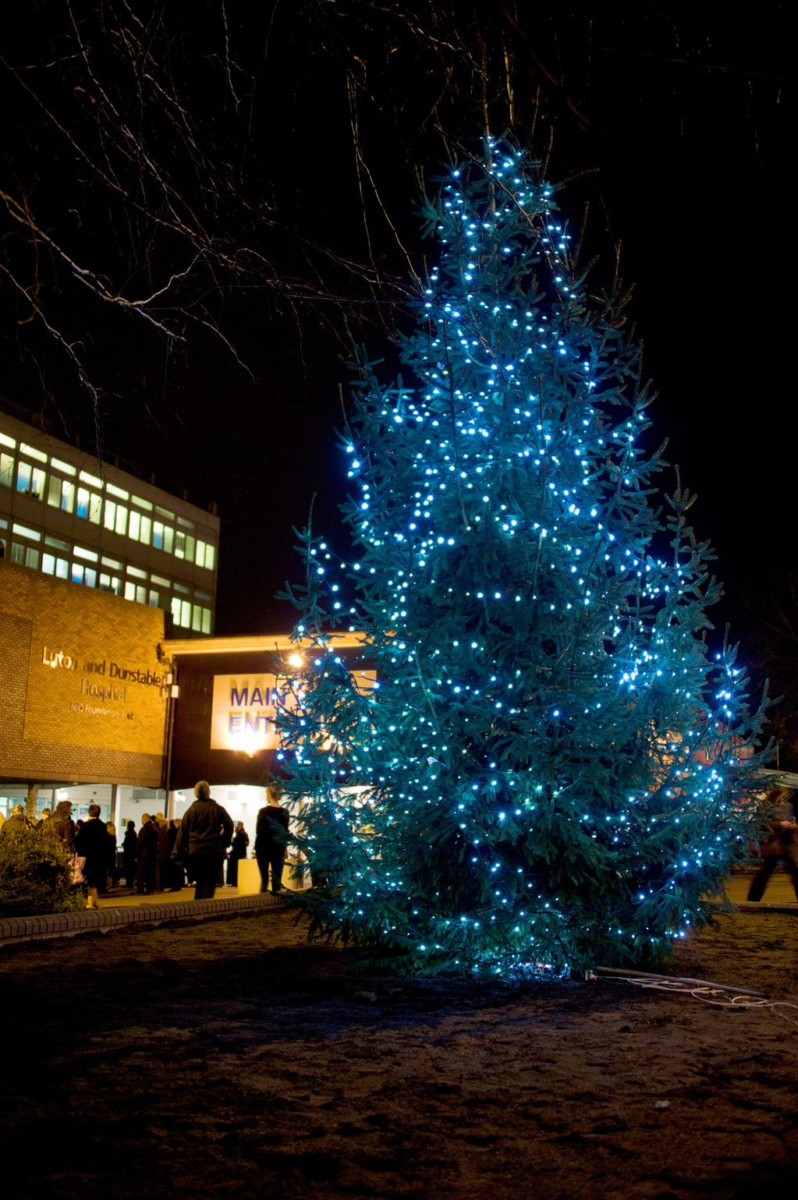 Our annual Light Up a Life appeal is an opportunity to purchase lights as a gift or in memory of loved ones at Christmas time.
Lights can be purchased up until Christmas Eve and names will be displayed and updated, weekly in our main reception areas, Facebook and below.
This is a great alternative to Christmas cards and a beautiful way to remember a loved one.
The official switching on ceremony took place at both our hospitals on Friday 11 December – you can view the switch on videos here.
Due to current restrictions, this event was not open to the public this year.
We hope you understand that your safety, as well as the safety of our staff, is our priority.
The lights are now twinkling proudly outside of our hospitals' for everyone to see throughout the festive season!
All funds raised at the L&D will support our NICU Parents' Accommodation. This facility provides a 'home from home' environment which enables some parents, who live far away from the hospital, to sleep and rest whilst being as close as possible to their critically ill and premature baby.
All funds raised at Bedford will support the Special Care Baby Unit (SCBU), and the purchase of much needed and vital equipment, that will enhance the care provided to premature and poorly babies.
To purchase a light please call 07812 493445 or email fundraising@ldh.nhs.uk. Lights are £5 each or 3 for £10.
Gift List
Lights have been purchased on our tree as a gift for:
Andrew Manning
Andrew & Christopher Wheelhouse
Anne Salmon
Archana Dhere
Arthur
Barbara Bradley
Ben and Max Amexheta
Caroline Walker
Caroline Hammond
Chemo Unit Nurses
Chris, Bina & Sophia White
CNF Nurses Macmillan unit
Des Salmon
Douglas Westmoreland
Eden Lewis
Edward Phillips
Emma Hayward
Gabriel
Gill & Roz
Granddad
Granny & Grandpa
Hannah
Jacob
John & Janet Graham
Judi Kingham
Justice
Kelly Donlevy & David Stevens
Kinsella Family
Kyle & Kayla Kinsella
Lawretta
Lesley and Tim Jarman
Lucinda Sutton
Marion Crick
Martin Russell
Michelle Goode
Mr & Mrs Filby
Mr N Warner & Family
Mrs C Picciano
Mrs Farzend Begum
Mrs N Zekai
Mrs R Manocchio
Ms Lurlyn Calliste
Naomi Johnson
NHS Thank you
Owen
Pam Brown
Rachael Murley
Roseanne & David
Thank you to NHS Staff
Thank you to the Chemists who created the vaccine
The Tortonese Family
Tom
Verity Barker
Vinod Tailor
Violet
In Memory Of
Lights have been purchased on our tree in memory of:
Alan Saunders
Alan Hutley
Albert Middleton
Albert Warren
Alec & Julie Turnbull
Alice Hobbins
Alice Gardiner
Aman
Amanda Ward
Andrew Olney
Andy Hodges
Angela Collins
Angela O'Connell
Anita Armstrong
Ann Olney
Ann Vistartas
Anne Dumbell
Anne Westwood
Anne Gilson
Any families who have been affected by cancer
Anyone who has passed away
Ariya – Little Guardian Angel for her twin sister Adhiya
Arnie Bennett
Aurora Lombardi
Baby Johna Poole
Baby Kelvin Coady
Betty Brown
Betty Coady
Bill Kirby
Bob Hobbins
Brenda Lockerby
Brian Woodward (Dad, Grampa & Husband)
Brian George Pooley
Bridget Barber
Carmel & Johnny (Mum & Dad) Flanagan
Cath Skinner
Catherine McNamara
Catherine Sterry
Catherine & Patrick Allen
Cecile Foster
Charles
Charlie & Marge Coffman
Christie Barber
Christina Palmer
Christine Stratford
Christopher Donnelly
Cindy Mead
Clifford John Mackinnon
Clive Wightman
Colin Ward
Corey Miller
Corey Harris
Dad (Stan)
Daihi Ben Mistry
Daniel Westmorland
Daniel Caird
Darmic
David Barber
David Sakaldip
David Preskett
Davina Russell
Denzyl Bhula
Derek Wakefield
Des Gray
Dick & Edna Wilson
Dicker Family
Dorothy Westmorland
Doug Taylor
Douglas Nulty
Duarte
Dulcie Butler
Duncan Reynolds
Edna Sheridan
Ellen Rose Earley
Elliott Harris
Emily Louise Mackinnon
Eric Lewis
Eric Norman
Eric Robinson
Eric Armstrong
Ernie Llambias
Ettore
Eva & Paddy Horrigan
Faith Carmel Stevens
Father John Breen
Frances Stewart
Francesca Silvio
Francis
Frank Austin
Fred Smith
Friends of Kenneally
Geoff Stone
Geoffrey Haggar
George
George Langley
Giovanni D'Angelico
Gordon Henry Price (Husband)
Gordon Henry Price (Father)
Grandma Cao
Greta Field
Gwendoline Feeley
Hannah Marie Swendell
Helena
Hesara Kekulawala
Hon Lam Cao
Irene & Jim Lidford
Ivy Thomas
Jack Kirkland
Jack Linnett
Jake Issacs
James Sharpe
Jan Woollard
Jayne Mitchell
Jean Robinson
Jean Smokcum
Jim Clark
Jim Smith
Jim Twitchell
Joan Greene
John Temple
John Monaghan
John Barber
John Coles
John Marr
John Temple
John Donnelly
John Edward Gardiner
John Peter Womack
Jonathan Allman
Joshua
Josie Coady
Joyce & Dot Wilson
Joyce & Geoffrey Sugden
Julie Crawley
Karl Lockerby
Keith Gladwell
Keith Sutcliffe
Keith Everett
Keith Allman
Ken Field
Kenneally Family
Kevin Ward
Kevin Nulty Senior
Kittie Barber
Kody Brown
Lawrence Jarman
Les Smith
Lesley Ward
Lilian Grace Bishop
Linda Saunders
Little John (Son)
Louis Harris
Lucy Wheelhouse
Mabel Bayliss
Maggie O'Connell
Maragret Twitchell
Margaret Allman
Mark Vistartas
Marlene Newton-Smith
Martin Vanos
Martin Hazell
Martin Kilpatrick
Mary Walsh
Mary Spain
Mary Rowe
Matthew O'Connell
Matthew Turner
Maureen Cooney
Maureen Kirby
Max James Turnbull
May Kilpatrick
Mervin
Michael Foster
Michael Kernan
Mike Norrish
Miss Peg Day
Mr A & Mrs G Gafur
Mr A & Mrs S Kamall
Mr A H Gafur
Mr A S Gafur
Mr Antonio Scarcelli
Mr Arthur William Foskett
Mr Bernard Towsend
Mr Bill Carolan
Mr C Munro
Mr C & Mrs Z Sattuar
Mr Colin Mooring
Mr D Dhanpersaud
Mr David Clarke
Mr David Eacott
Mr Derek Clarke
Mr Fred Ellingham
Mr Frederick Charles Foskett
Mr H & Mrs S Kamall
Mr Harry Reid
Mr Herbert Morden
Mr Herbert Hedley
Mr I & Mrs N Dominique
Mr Iain Neville
Mr Istvan Nagy (Dad)
Mr J Hall
Mr Jack Vaukins
Mr James Casey
Mr Jaoquim Monteiro
Mr Jasper Griffin
Mr Jim Mann
Mr Larry Weiss
Mr M & Mrs R Haniff
Mr M & Mrs Z Alli
Mr Michael Karaphillides
Mr N & Mrs I Muhammad
Mr Peter Budd
Mr R & Mrs Z Bacchus
Mr S Manocchio
Mr Susan Rollings
Mr T De La Mare
Mr T & Mrs A Khurwal
Mr Waginder Singh Puar
Mrs Balbir Kaur Puar
Mrs Betty Ellingham
Mrs Daphne Budd
Mrs Doreen Phillips
Mrs Dorrie Stanley
Mrs Edith Foskett
Mrs Elsie Hedley
Mrs Emily White
Mrs Enid Phillips
Mrs F Dilorio
Mrs Flora Nagy (Mum)
Mrs Flossy Towsend
Mrs Gillian Neville
Mrs Gloria Sanders
Mrs J Hall
Mrs Marie Louisa Jee
Mrs Marion Morden
Mrs Mary Teresa Vaukins
Mrs Miriam Griffin
Mrs N Khan
Mrs Nicola Wootton Nee Neville
Mrs Paddy Norman
Mrs Pat Morgan
Mrs Pat Powell
Mrs Violet Vaukins
Ms Angela Felgate
Ms Jane Holden
Mum (Helen)
Mum Sibil Tortonese
Muriel Stone
Nan & Granddad Jepson
Nan & Pole Craven
Nanny Rose
Nell Kirkland
Nicki Lake
Nora Monaghan
Norma Stubbs
Norman Cook
Norman Henry Bishop
Oliver Ward
Pat O'Shea
Patrick Walsh
Patrick McNamara
Patrick O'Connell
Patrick Feeley
Paul Swendell
Paul Pradier
Paul Kinsella
Paula Clarke
Pauline Swendell
Peggy Armstrong
Peter Bryan Mead
Phil O'Connell
Philip Kernan
Phillip O'Connell
Pietra Francesco Tony Cannatella
Rae Linnett
Raymond & Dorothy Kelly
Reg Bayliss
Renee Vanos
Richard Ward
Richard Coady
Richard Coady Jnr
Robert Donnelly
Robert Disbery
Robert (Dad)
Roger Constant
Rohail Akbar
Ron Wheelhouse
Ronald Lockerby
Ronald Palmer
Rory George Wilson
Roshan Kumar
Roy Crick
Roy Blackwell
Salvatore Contino (Dad)
Sammy Sadler
Sarah Everett
Seamus Farrell
Shelia Sweeney
Shirley Dinham
Sidney Thomas
Skye Emma Wilson
Stanley Reginald Butler
Stephen Walsh
Stuart Harding
Sue Winrow
Suraj Kumar
Susan Armstrong
Ted Swendell
Teresa Galvin
Terry McNamara
Thomas Earley
Tommy Hoare
Tracey Judd
Trev Llambias
Trevor Pratt
Trevor Watson
Umer Akbar
Van Nga Cao
Vincent O'Connell
William Spain
William Rowe
Willie Webb