Past News and Events
Money raised for the Cancer Unit
Jane Colclough, a PA at the L&D was diagnosed with breast cancer five years ago. This was a very emotional experience for both her and her family but with thanks to the help and support of the cancer unit at the L&D, Jane was able to get through this and is now in remission. As a way of saying thank you, Jane decided to cut her hair off whilst raising money and awareness for an incredible unit that saved her life. A massive well done and thank you to Jane for cutting her hair off and raising £755!
Family Fun Day and Auction Night held for our Maternity Bereavement Suite
A huge congratulations to Rianna Steers for raising an incredible £3,400 so far, for our Maternity Bereavement Suite. Rianna held a Family Fun Day and Auction Night last weekend to raise funds for such a valuable service at the L&D. Well done and thank you to everyone involved!
Marks and Spencer Luton are raising money for NICU!
We are very pleased to announce that Marks & Spencer in Luton have chosen NICU for their store charity of the year! The branch will be fundraising for the unit for the next 12 months so look out for our orange tins in store and other NICU items.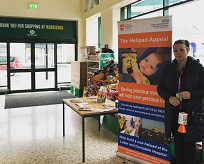 Morrisons Collections for the Helipad Appeal
The total raised from the store collections at Morrison's in Houghton Regis was £433.22. This was raise for the Helipad Appeal and thank you to everyone who helped and donated over the weekend!
You can donate to our Helipad Appeal via our JustGiving page, please click here.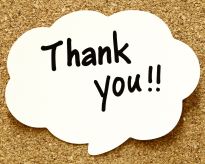 Donation to the Paediatric Unit
Thank you to Gerry Taylor and his customers for raising an amazing £700 for our Paediatric Unit! Also a big thank you to Vince Shuel for bringing it into the hospital on Gerry's behalf.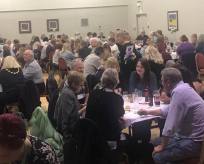 Spring Quiz Night
The Spring Quiz night was a huge success and raised £657.72 for the Child Oncology Rooms!
We had an amazing turn out and the atmosphere was buzzing!
Congratulations to Judi Kingham and team who were the winners of the night and won the trophy from last years champions.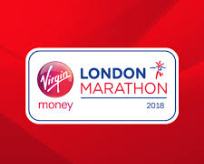 London Marathon 2018 (Jon Reep)
My training had been consistent and structured since December and like many other runners I probably tested my family's patience to the limit with talk of different diets and how freezing cold it was on my long weekend runs.
Fast forward a few mo
nths to a very different climate where competitors were given a very warm welcome to the London Marathon! I had been training to run under 4 hours but my game plan changed drastically after just three miles and with the punishing heat radiating up from the tarmac, I quickly lowered my expectations to a comfortable jog.
My aim would be to survive until about the 23rd mile and then open up the pace at the end if I had the energy. I arrived at this milestone and the only thought at this stage was simply to survive and make it to the finish. The crowds, atmosphere and organisation was fantastic and it will be an experience I'll never forget. I feel very privileged to have been chosen to run for the Luton and Dunstable University Hospital Trust and so pleased with the fundraising support from my family and friends which has raised over £2,500 thus far.
London Marathon 2018 (Elliott and Tash Stern)
Well, we did it!
After 4 months of committed training, buying countless amounts of running gear, eating, drinking and sleeping running – we completed the hottest ever London Marathon!
The heat was unfortunately more crippling than we imagined so whilst neither of us achieved the times we were training for, we both crossed the line and have raised £14,000 (including gift aid) which was way above our expectations!
The day took a slight turn for the worse when Elliott collapsed at Mile 18 due to heat exhaustion but somehow he managed to carry on and cross the line, which is courage at its best!
Thank you also for your support, words of wisdom and cheers on the day! We couldn't have achieved it without your help.
Our running shoes have been hung up for now but it really was such an amazing experience, we could be tempted again in the future!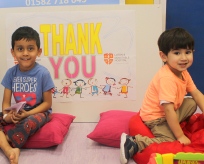 End of the Financial Year
As we have reached the end of the financial year, we would like to say a huge THANK YOU to everyone who has supported the Luton and Dunstable Charitable Fund over the last year. We had our best year yet, raising over £1 million! We couldn't have done it without all of your support!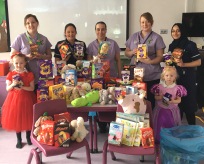 Easter Donations
Generous local companies visited the Children's Wards over the Easter period to donate Easter eggs to the patients. Thank you very much to the teams at David Lloyd Gym in Luton, GKN Aerospace in Luton, Aritsu LTD, Luton and the HBB Bikers . What Eggamples you are to the local community.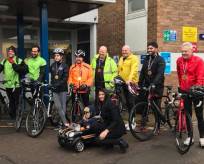 Bike Ride
Ranbir Mutti and friends took part in a bike ride called 'Kaylen's bike ride'. Ranbir and his team cycled successfully from Bedford to the hospital and raised £1,801 for NICU. Ranbir's son Kaylen spent 2 months in NICU from birth and his parents wanted to do something to say thank you to the unit for all their care and support.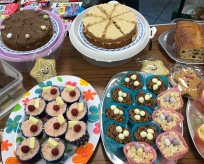 Triple Cake Sale Treat 
We had a triple treat in March with 3 departments holding Easter cake sales for their departments;
Ward 32 in Maternity were first up and raised a fantastic £1181! Along with an additional £319.20 from the raffle.
Next were the Children's ward who held their Easter cake sale in mid-March and raised £985.33.
Last but not least and just in time for Easter The Paediatric Emergency Department held their cake sale and raised £799.90.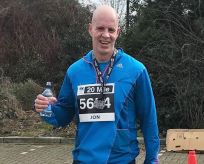 Jon Reep Marathon
Well done to our London Marathon runner, Jon Reep who completed the Milton Keynes Festival of running 20 mile race and managed 2 hours 58 minutes. Jon is busy training for the London Marathon, which he is running on behalf of our Children's Wards.
Dominos
Dominos stores across Luton and Dunstable held a special promotion in march to raise funds for the Helipad appeal, Dominos will be fundraising for the hospital throughout the year.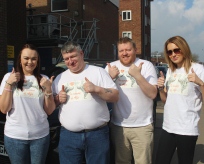 Rianna Steers Sponsored Drive
Rianna and friends embarked on a driving adventure across the UK in March in order to raise funds for the Maternity Bereavement Suite. Rianna organised a 24hour sponsored drive with the aim to visit all of the premiership rugby clubs in the country to collect prizes for their charity auction night. The drive was organise din memory of baby Archie.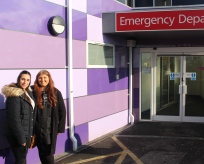 Hannah's Beauty Bar Nail'a'thon
Beautician Hannah Louise from Houghton Regis raised an impressive £411 for the Helipad Appeal by organizing an all-day nail marathon.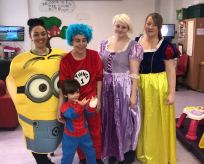 World Book Day
Staff from the fundraising team and the children's wards dressed up on 1st March to celebrate World Book Day which put a smile on all the patients faces. Thank you to Spider Man (George) who stopped by to take a photo with us before a very important mission.
Knitting donation to NICU
Thank you to Suzy and Joan who visited NICU to donate some knitted items which included blankets, hats, jumpers and octopi cuddly toys. Our NICU families will be delighted with these.
#VISITMYMOSQUE
We were delighted to be invited to Madinah Mosque as part of their #VISITMYMOSQUE initiative. The mosque donated £1885 for the Helipad. Thank you!
Galway Association Bedfordshire Donate to NICU
Thank you to The Galway Association Bedfordshire who presented us with a cheque for £1000 to support NICU at their annual dinner in February.
Valentines Day Cake Sale
Well done to the Coronary Care Unit who raised £200 at their cake sale supporting the unit.
Maidenhall Primary School support The Child Oncology Rooms Project
Community Fundraiser Bianca visited Maidenhall Primary School in Luton who held a competition to raise money for the child oncology rooms project. The students designed their own hospital rooms and Bianca was delighted to help judge!
The Seventh Day Adventist Church raised money for NICU
A massive thank you to Gabrielle James and members of The Seventh Day Adventist Church in Luton, who held a concert to support NICU. We were delighted to receive a cheque for £535! This will benefit the premature and sick babies on the Unit. What an amazing effort – well done!
Incredible NICU Donation
Thank you to Ruby for sharing your heart felt story of your recent journey through NICU. We wish you all and little Hamish well. Ruby and family have raised a staggering £3,000 for the unit. Click here to ready Ruby's story.
Putteridge Primary School raise money for our Children's Ward
A huge thank you to the children and staff and Putteridge Primary School who have raised an amazing £1005.40 for our Children's Wards. Community Fundraiser, Bianca visited the school to thank them for their fantastic fundraising efforts. Great work!
Gift Donation for the Children's Wards
Thank you to the members of Ahmadiyya Muslim Women's Association who visited us yesterdaywith some lovely gifts for the Children's Ward.
Book Sale for Child Oncology Rooms Project
A massive well done and thank you to Roland and Pat who held a book sale in the hospital. They raised an amazing £266.65 for the Child Oncology Rooms project. Thank you to all who donated and purchased books.
Children's Wards Donation
A huge thank you to Atiq & the teams from Children of Adam and Maximum Nutrition in Luton, for their wonderful toy donation. The toys will benefit the patients on our Children's Ward. Fantastic local support!
Helipad Appeal Donation
Members of the NHS retirement fellowship were in attendance at the hospital for a presentation and talk about The L&D charitable fund to find out more about the fundraising activities at the hospital and in the community.
The fellowship also kindly donated £50 towards the Helipad Appeal!
Cuddle Cot Donation
Thank you to Victoria, Nigel and Max Lake for their generous donation of a cuddle got to our Bereavement team. We have also received one from Claire Ashley and her family in loving memory of Ruby Ashley – thank you.
The Grove Theatre Panto visit the Children's Ward
We were delighted to be joined by the team at The Grove Theatre Panto who visited our patients on the Children's Ward. It was wonderful to see the patient's reactions when seeing them. Thank you SO much for coming in. We hope to see you again next year!
Specialist Cards Luton deliver presents
Tony Gair and staff from Specialist Cars in Luton visited the hospital to kindly deliver lots of presents to our Children's Ward patients!
Thank you very much for your support!
Watling Lower School Christmas Card Competition
Bianca visited the children at Watling Lower School in Dunstable to judge their Christmas tree competition. The competition is their first fundraising activity in raising money for our Child Oncology Rooms! It was very hard to choose as all of the entries were fantastic! Well done to the children in each class who won!
Christmas Gift Wrapping
It's been a very busy week in fundraising with so many deliveries of presents for our patients! So many of you have taken the time to give a gift this Christmas so we needed to ask some helpers to wrap them all!!
Thank you to all who came into the hospital every day despite the awful weather to wrap presents including the team from MyLetz in Luton, Stephen Parkinson, Sue from The Orbit Club and Sue Steffans.
Dunstable Town Football Club visit our Children's Ward
We had the pleasure of welcoming the players and staff from Dunstable Town Football Club who came in to visit our Childrens Wards , the team kindly took the time to speak with each child, wish them a Merry Christmas and handed out gifts which put a smile on lots of faces.Thank you very much to you all it was fantastic to have you and we hope to see you again next year!
Sainsbury's Dunstable deliver gifts to the Children's Ward
Thank you to Deanna & the staff from Sainsbury's in Dunstable who came in to deliver gifts to our patients this week. They have been collecting presents in store for our children's wards in the lead up to Christmas.
Luton Town Football Club visit our Children's Ward
We were delighted to have the team from Luton Town Football Club visit the Children's Ward with Santa! They gave our patients gifts and wished them a Happy Christmas! Thank you for coming along, you all brightened up our patients day!
Christmas Card Donations
We were delighted to received hand made Christmas cards from the students at Challney High School for boys and The Meads Primary School. The students have worked very hard and we are very grateful for this. Our patients who are in over Christmas will receive these and are sure to bring a smile to their faces! Fantastic job, thank you.
Christmas Santa Float raising money for Diabetes
The hospitals Fundraising and Diabetes teams joined forces to take part in the Santa Float. Staff followed Santa on his float throughout Houghton Regis and Dunstable, knocking on doors and sending Christmas cheer! Thank you to The Rotary Club of Dunstable who kindly asked us to take part in this annual event. We had lots of fun and hope to be back next year!
Knitting for NICU
Thank you to Mrs Irish who delivered lots of her beautiful knitting for NICU, these items will be given to our premature babies on the unit.
NICU and Children's Ward gift donation
Thank you to Ria and Amy for delivering gifts to our Children's Wards and NICU from the youth group at Sandringham hub and Aldwyk Housing. Also thank you to Maddison for your kind note to our patients.
We really appreciate your support!