Our Sky Panels Appeal
Brighten up a child's day at the L&D
If you have ever had a child need emergency care, you know how scary it can be.  We are currently working with our medical and redevelopment teams to create a new emergency department, supporting the teams to make the space more friendly and less scary for children. We are asking for donations to raise funds for interactive optical sky panels that can be fitted into our children's emergency department.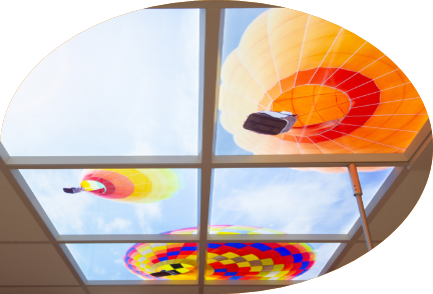 The optical sky panels help to make the space feel less clinical and reduce feelings of anxiety for young patients receiving treatment, giving them a more positive experience of being in hospital. They do this by creating an illusion of being outside and of brighter days, offering a different focus for children needing emergency medical care. Even if it's gloomy outside it doesn't need to be inside.  So please help us to brighten up a sick child's day.
One set of four sky panels costs £1,266 and you can exclusively own a set! We need to raise £23,000 to create a calming, bright ceiling in this key area.
Will you fundraise for us?
Will you make a donation today?
Can you support in other ways?
Email fundraising@ldh.nhs.uk or call 01582 7189289 today!
Thank you for taking the time to visit the website and brightening a child's day.