Graham Gooch: Cricketing Legend
Joining this amazing event at Luton Hoo is Cricketing Legend Graham Gooch!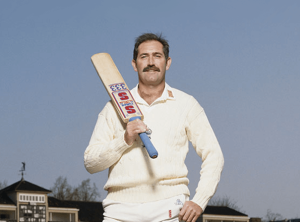 Graham is one of the most successful international batsmen of his generation and has amassed a grand total of runs that made him the most prolific scorer of all time. Now also known as a skilled after dinner-speaker and in-demand coach, we are really looking forward to having him join our Cricket Lunch!
The records that Graham clocked up speak for themselves – he scored the most test runs for England with 8,900 – the 9th highest total in all of test cricket – and scored the most fifties with a grand total of 66.56!
He is also the third highest scorer in a single test innings with 333 runs and is the highest ever scorer in a full test with 456 runs.
Graham has returned to coaching as the Essex batting coach (the team that he made his debut with in 1973 aged just 10!), working with England and current greats such as Ian Bell and Alistair Cook. He played for this same county until his retirement in 1997 and helped the team win a major domestic trophy for the first time in their history in 1979 when he scored 120 runs. Gooch made a habit of leading by example throughout his career and had a batting average far higher than most of his peers.
As such, there could be few better people to come and inspire young batsmen or sportsmen of any type and we hope you are as excited as we are for this event!
– (Information taken from Graham Gooch | Booking Agent | Talent Roster | MN2S)